Bella Hadid Posed Topless in a Straw Hat in Mexico
Hats as an outfit is a LOOK.
---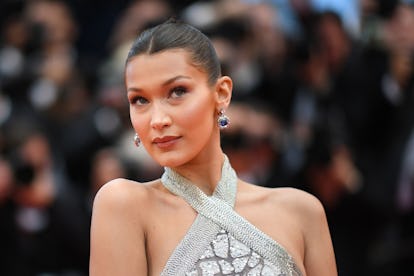 LOIC VENANCE/Getty Images
Summer is officially here, and Bella Hadid has wasted zero time embracing the season. On Wednesday, the model hit the beach in Mexico in what she calls her "leisure suit," otherwise known as a subtle thong bikini and a massive straw hat that's isn't just shading her from the sun, but blocking it out all together.
After Hadid spent two days on a photo shoot, she posted a heartfelt Instagram caption about how much she loves spending time in Mexico "Thank you to the most perfect team of people for the absolute most perfect 2 days of 'work' ?Mexico has always had my heart and been my favorite place since childhood…I was so lucky to be able to come back," she wrote, going on to express her gratitude to the people she worked with while in Mexico. "Thank you from the bottom of my heart, you made my soul singggg this week ????"
Though it's clear that Bella is totally confident in whatever she wears, in a recent interview she revealed that she used to feel insecure about the way she looks. "People think I'm very confident, but I really had to learn how to be," the model told InStyle. "Yes. I had a small waist and big hips and was kind of chubby. I love them now, but I was always self-conscious of my hips — whereas my sister, Gigi Hadid, had a six-pack and was very athletic. And I thought I had such a weird face. I remember very distinctly getting bullied because of my features."
Whatever those bullies are doing in their lives now, they probably were not topless on a Mexican beach in a giant hat this week.
Related: Bella Hadid Made Two Outfits Out of One Black Vest Over the Course of a Day
Bella Hadid Is the Reigning Queen Of Model Off-Duty Style
Bella Hadid is seen walking in Soho on June 30, 2016 in New York City.

Getty
Bella Hadid leaves the 'L'Avenue' restaurant on October 28, 2016 in Paris, France.

Getty
Bella Hadid is seen in Soho on November 14, 2016 in New York City.

Getty
Bella Hadid is seen in Midtown on February 14, 2017 in New York City.

Getty
Bella Hadid arrives at a party on February 28, 2017 in Paris, France.

Getty
Bella Hadid leaves her hotel on March 1, 2017 in Paris, France.

Getty
Bella Hadid is seen on January 21, 2017 in Paris, France.

Getty
Bella Hadid is seen in the East Village on November 18, 2016 in New York City.

Getty
Bella Hadid leaves the 'RIMOWA' boutique in Rue du Faubourg Saint Honore on March 6, 2017 in Paris, France.

Getty
Bella Hadid is seen at Chelsea Piers on March 30, 2017 in New York City.

Getty
Bella Hadid is seen leaving her apartment in the East Village on April 5, 2017 in New York City.

Getty
Bella Hadid seen on the streets of Manhattan on April 5, 2017 in New York City.

Getty
Bella Hadid on a night out at Sexy Fish restaurant in Mayfair on April 19, 2017 in London, England.

Getty
Bella Hadid is seen in the East Village on April 25, 2017 in New York City.

Getty
Bella Hadid is seen the East Village on April 29, 2017 in New York City.

Getty
Bella Hadid is spotted during the 70th annual Cannes Film Festival on May 17, 2017 in Cannes, France.

Getty
Bella Hadid is seen in Chelsea on May 4, 2017 in New York City.

Getty
Bella Hadid is spotted at the Majestic Hotel during the 70th annual Cannes Film Festival at on May 20, 2017 in Cannes, France.

Getty
Bella Hadid is seen in NoHo on May 10, 2017 in New York City.

Getty
Bella Hadid enters a Noho apartment on June 06, 2017 in New York City.

Getty
Bella Hadid is seen at 'L'Avenue' restaurant on June 9, 2017 in Paris, France.

Getty
Bella Hadid is spotted at the 'Majestic' hotel during the 70th annual Cannes Film Festival at on May 27, 2017 in Cannes, France.

Getty
Bella Hadid is spotted at Airport Roissy Charles de Gaulle airport on June 11, 2017 in Paris, France.

Getty
Bella Hadid is seen in the East Village on June 12, 2017 in New York City.

Getty
Bella Hadid seen on the streets of Manhattan on June 13, 2017 in New York City.

Getty
Bella Hadid is seen at LAX on June 21, 2017 in Los Angeles, California.

Getty
Bella Hadid seen out in Manhattan on July 17, 2017 in New York City.

Getty
Bella Hadid is seen in Paris, France, on June 3, 2017.

Getty
Bella Hadid is seen walking in Soho on July 19, 2017 in New York City.

Getty
Bella Hadid is seen on August 26, 2017 in New York City. (Photo by Ignat/Bauer-Griffin/GC Images)

Ignat/Bauer-Griffin