Bella Hadid's Met Gala Look Included a 10 Pound Veil Sewn Into Her Hair
Does this count as a workout?
---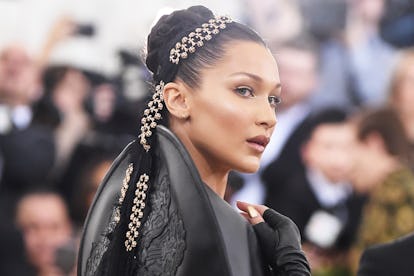 Jamie McCarthy/Getty Images
Whoever said beauty is pain might have been referring specifically to Bella Hadid's 2018 Met Gala look. While her outfit was certainly statement-making, the 21-year-old model's accessories deserved their own round of applause after Bella revealed that the headpiece weighed a total of 10 pounds. On her Instagram Stories, Bella wrote, "If anyone was wondering why I couldn't move it's because a legend by the name of @jenatkinhair sewed a whole entire 10 pounds veil to my head." Now that's dedication.
The rest of Bella's look was equally as impressive; she wore a black latex corset, a long black skirt with crosses at the bottom, and a black coat with a high collar and sculptural sleeves.. The look, which played to the Met Gala theme "Heavenly Bodies: Fashion and the Catholic Imagination," was designed by Chrome Hearts (one of Hadid's favorite labels, she even once photographed the designers for W) and based on archive collaboration they had done with British designer Gareth Pugh. Aside from the veil, Bella accessorized the outfit with a gold cross necklace, black fingerless gloves, and gold eyeshadow.
Headpieces were definitely on-trend on the red carpet this year. Blake Lively, Hailey Baldwin, SZA, Solange Knowles, and more all wore some type of hair accessory, whether it was a literal crown or geometric headpiece. Of course, Rihanna, one of the co-hosts of the night and verifiable queen of the Met Gala, stole the show with a head-to-toe jewel encrusted Maison Margiela outfit that featured a sky-high papal mitre.
And, come to think of it, Rihanna's fierce look was probably also a workout with all of those embellishments. Bella and Rihanna should probably both do lots of neck stretches tomorrow. See below for Bella Hadid's full look.
Related: Evan Rachel Wood Can Confirm That The Girls' Bathroom Is the Best Place To Be At the Met Gala
Met Gala 2018: All the Headpieces Worn by Celebrities on the Red Carpet, Ranked
No one could ever beat Rihanna cosplaying as the Pope of fashion.

Jamie McCarthy/Getty Images
Frances McDormand's headpiece was both elegant and enigmatic—much like the actress herself.

Kevin Mazur/MG18/Getty Images
Always one for making a bold statement, Solange opted for a gold halo to sit a-top her du-rag at the 2018 Met Gala.

Neilson Barnard/Getty Images
Priyanka Chopra smoothly incorporated this stunning gold headpiece into her 2018 Met Gala look.

AFP Contributor/Getty Images
Madonna held her veil in place with a crown consisting of gold crosses at the 2018 Met Gala.

Neilson Barnard/Getty Images
This is not the first (and likely will not be the last) time Jared Leto has worn a gold crown in public, neither is it the first or last time Jared Leto has looked like Jesus Christ himself.

Dia Dipasupil/Getty Images
Cara Delevingne didn't just cover her head—she veiled her entire face.

Mike Coppola/MG18/Getty Images
A wide brimmed headpiece at the 2018 Met Gala? Must be the Young Pope's influence.

Dimitrios Kambouris/MG18/Getty Images
SZA wore an ethereal halo fit for a princess.

Matt Winkelmeyer/MG18/Getty Images
Lily Collins coronated herself a sharp, gothic halo to complete her look at the 2018 Met Gala.

Kevin Mazur/MG18/Getty Images
Cardi B's pearl-encrusted crown made its debut on the red carpet at the 2018 Met Gala.

Dia Dipasupil
A biblical Nativity scene nestled its way into Sarah Jessica Parker's gold headpiece.

Dia Dipasupil/Getty Images
Lynda Carter showed up to the 2018 Met Gala looking just like Wonder Woman in a gold crown.

Neilson Barnard/Getty Images
After the Hedy Lamarr inspired star crown she wore at the 2018 Grammys, Lana Del Rey upped the ante for her 2018 Met Gala look with a couple giant birds.

Mike Coppola/MG18
Who knew beloved tile-matching puzzle game Bejeweled made headgear?

Mike Coppola/MG18
Rita Ora's black spiky floral crown was the perfect gothic accessory for the pop star's 2018 Met Gala look.

Kevin Mazur/MG18/Getty Images
"Signature bow, but make it… fashion?"

Sean Zanni
Rosie Huntington-Whitely took the theme to heart, and wore an actual gold halo.

Neilson Barnard
Hailee Steinfeld sported a classically simple bejeweled tiara.

AFP Contributor