Evan Rachel Wood Can Confirm That The Girls' Bathroom Is the Best Place to Be at the Met Gala
"I don't even know if I can say what goes on in there."
---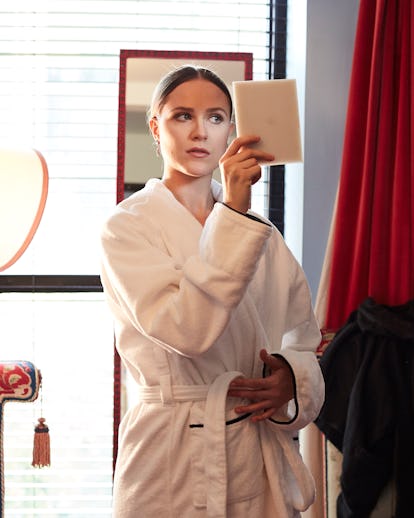 For most celebrities, this evening's Met Gala signifies a chance to dress up and party at a particularly fancy venue. For Evan Rachel Wood, it's an anniversary. It was exactly one year ago that the actress finally met designer Joseph Altuzarra—the mastermind behind many of her most stunning red carpet suits—in person, when she attended the event as his date.
"We spoke after he designed my Golden Globes suit, because me and my stylist Samantha McMillan approached him when we knew we were going to do all suits for awards season," the Westworld actress explained. "But we didn't actually meet in person until I was in New York for the Met last year. And we had a great time."
So great, in fact, that they were doing it all over again. "The Met Gala can sometimes be very overwhelming, and to be able to go with a friend who you're comfortable with is a real treat," said Altuzarra. "She's fun and genuinely [interested] in the exhibition and in taking in the experience, and we always have a really good time together."
Last year's show-stopping ensemble—a flowing beaded tunic over sleek black pants, complemented with intense eyeshadow and blue-tinged hair—was certainly hard to top, but somehow, it looked like the duo were set to do just that. For the occasion, Altuzarra had designed a chic jumpsuit to be paired with a golden cape made entirely out of feathers—more than one thousand. "Each feather is individually embroidered by hand with gold paillette sequins and silk thread," the designer said. "We've been working on this look for a little over a month."
The inspiration came from this year's theme, "Heavenly Bodies: Fashion and the Catholic Church," and, as Altuzarra said, "the idea of a modern angel with Evan as my muse." Unbeknownst to him, wings already had a personal significance for the actress. "Wings are sort of a big symbol in my life," she said. "I sing about them, I always talk about them, and whenever I'm in moments of fear or doubt, I imagine myself with wings, so it was weird that that's what he gravitated toward without us even talking about it."
Landing in New York on Sunday evening, Wood, who prepped for the big night at the Gramercy Park Hotel, was about to see the piece in person for the first time, but was remarkably calm—the sign of a Met Gala veteran. "The first time I went, I was a deer in the headlights," said Wood. "I was completely overwhelmed. I still don't really get jaded about these things, but I was just wide-eyed. I walked one way, and it was Paul McCartney, so I ran the other way, and then it was Mick Jagger, so I ran again. I ended up sitting next to Mary J. Blige at my table, and she looked at me and just went, 'Are you okay?' She could tell I was kind of stunned. I just nodded. It's a pretty wild night. I don't know how they pull it off."
Tonight will be Wood's third Met Gala, meaning she's learned some tricks of the trade from years past. First off: Hang out in the bathroom as much as possible. "It's usually to see what craziness is going down in there," she said of her favorite part of the night. "To me, that's like an art installation piece of its own. It's the only place you can see—I don't even know if I can say what goes on in there. But it does seem to grow every year."
Second, find time to catch up with old friends. "I can't wait to see Janelle Monáe," she said. "She's a friend of mine, and I haven't seen her since all of her new songs have been coming out and the videos, and I've just been dying over them in a corner. I want to give her the biggest hug, and just tell her that she's killing it."
Finally, and perhaps most important of all, do not turn down the afterparty. "You kind of have to do it," Wood said. "There's a few nights out of the year where I'll really allow myself to go that extra mile, and this is one of them. It's like, I'm here, everyone's here, we gotta see this through the end."
Related: Evan Rachel Wood on Westworld Season 2's Reckoning and Her #MeToo Story: "When I Testified, I Wore a Locket with Dolores in It"
Met Gala 2018: See What Celebrities Wore on the Red Carpet
Rihanna at the 2018 Met Gala. Photograph by Benedict Evans for W Magazine.

Benedict Evans
Cardi B at the 2018 Met Gala. Photograph by Benedict Evans for W Magazine.

Benedict Evans
Lily Collins at the 2018 Met Gala. Photograph by Benedict Evans for W Magazine.

Benedict Evans
Donald Glover at the 2018 Met Gala. Photograph by Benedict Evans for W Magazine.

Benedict Evans
Selena Gomez at the 2018 Met Gala. Photograph by Benedict Evans for W Magazine.

Benedict Evans
Katherine Langford at the 2018 Met Gala. Photograph by Benedict Evans for W Magazine.

Benedict Evans
Jasmine Sanders at the 2018 Met Gala. Photograph by Benedict Evans for W Magazine.

Benedict Evans
Rosie Huntington Whiteley at the 2018 Met Gala. Photograph by Benedict Evans for W Magazine.

Benedict Evans
Kate Upton at the 2018 Met Gala. Photograph by Benedict Evans for W Magazine.

Benedict Evans
Winnie Harlow at the 2018 Met Gala. Photograph by Benedict Evans for W Magazine.

Benedict Evans
Alek Wek at the 2018 Met Gala. Photograph by Benedict Evans for W Magazine.

Benedict Evans
Zendaya at the 2018 Met Gala. Photograph by Benedict Evans for W Magazine.

Benedict Evans
Priyanka Chopra at the 2018 Met Gala. Photograph by Benedict Evans for W Magazine.

Benedict Evans
Migos at the 2018 Met Gala. Photograph by Benedict Evans for W Magazine.

Benedict Evans
George and Amal Clooney at the 2018 Met Gala. Photograph by Benedict Evans for W Magazine.

Benedict Evans
Lena Waithe at the 2018 Met Gala. Photograph by Benedict Evans for W Magazine.

Benedict Evans
Ariana Grande at the 2018 Met Gala. Photograph by Benedict Evans for W Magazine.

Benedict Evans
Kim Kardashian at the 2018 Met Gala. Photograph by Benedict Evans for W Magazine.

Benedict Evans
Travis Scott and Kylie Jenner at the 2018 Met Gala. Photograph by Benedict Evans for W Magazine.

Benedict Evans
Blake Lively at the 2018 Met Gala. Photograph by Benedict Evans for W Magazine.

Benedict Evans
Bella Hadid at the 2018 Met Gala. Photograph by Benedict Evans for W Magazine.

Benedict Evans
SZA at the 2018 Met Gala. Photograph by Benedict Evans for W Magazine.

Benedict Evans
Kendall Jenner at the 2018 Met Gala. Photograph by Benedict Evans for W Magazine.

Benedict Evans
Janelle Monae at the 2018 Met Gala. Photograph by Benedict Evans for W Magazine.

Benedict Evans
Emily Ratajkowski at the 2018 Met Gala. Photograph by Benedict Evans for W Magazine.

Benedict Evans
Daniel Kaluuya at the 2018 Met Gala. Photograph by Benedict Evans for W Magazine.

Benedict Evans
Gigi Hadid at the 2018 Met Gala. Photograph by Benedict Evans for W Magazine.

Benedict Evans
Katy Perry at the 2018 Met Gala. Photograph by Benedict Evans for W Magazine.

Benedict Evans
Paris Jackson at the 2018 Met Gala. Photograph by Benedict Evans for W Magazine.

Benedict Evans
Madonne and Nicki Minaj at the 2018 Met Gala. Photograph by Benedict Evans for W Magazine.

Benedict Evans