Jordan Peele Reinvents the Hitchcock Heroine, with the Help of Janelle Monáe
Starring Janelle Monáe; Directed by Jordan Peele; Photographs by Collier Schorr; Styled by Sara Moonves.
---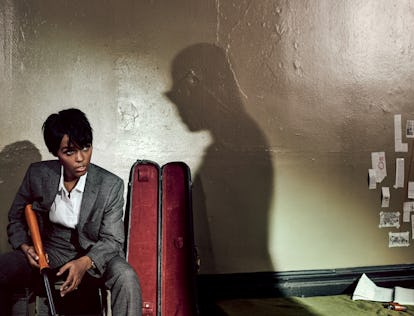 Starring Janelle Monae; Directed by Jordan Peele; Photographs by Collier Schorr; Styled by Sara Moonves;
The scene: A private investigator is standing in a clock tower taking photographs of a parade. She is a woman, played by Janelle Monáe, and she is searching for clues to a murder. As the detective stares through the lens, she begins to realize that one of the bystanders on the ground looks exactly like her. Then she sees another identical face. And another. Suddenly, the sea of potential suspects are visions of herself. Are these women good? Are they evil? And why are these twinlike alter egos haunting her?
"I wanted to create a Hitchcock moment that doesn't really exist in a Hitchcock film," explained Jordan Peele, the 39-year-old writer and director of Get Out, which has been widely acclaimed as one of the best movies of 2017. Peele, who was standing on the fourth floor of the abandoned Palace movie theater in downtown Los Angeles, had constructed a scenario that paid homage to the mystery and intrigue of Hitchcock masterpieces like Vertigo and Psycho. Just as Get Out is Peele's subverted and original take on unsettling classics like Rosemary's Baby and The Stepford Wives, "Noir Town" replaces Hitchcock's uniformly white protagonists with a woman of color.
"I've come to think of gender and race as related in a civil rights sense," Peele told me, as a makeup artist applied drops of fake blood to Monáe's face. Peele, who was dressed in jeans and a hoodie with a drawing of a large arrow going jaggedly up, up, up on the back, has been on a thrilling trajectory since Get Out premiered with a midnight screening at the Sundance film festival last year. An interracial romance gone horribly wrong, Get Out was a risky movie to make: It's a mix of comedy, horror, and diversity politics. When the hero, Chris, played by Daniel Kaluuya, visits his Caucasian girlfriend's supposedly liberal parents, he falls into a well-laid trap. The mother hypnotizes him, sending him to the Sunken Place, a quicksand-like hole that serves as a metaphor for the diminished standing suffered by people of color. When Chris fights back—and wins—the film becomes a story of triumph over the oppressive power structure in America.
"When I first read the script for Get Out," Kaluuya had told me on another occasion, "I thought, Are they really going to let this black guy kill all these white people?" But because the white people were diabolical and the film was so darkly funny, Get Out soared, grossing $254 million to date, and getting four Oscar nominations, including best picture.
Peele, who as part of the duo Key and Peele had previously worked as a comedian, was a surprise discovery as a writer and director. "Get Out could have been a career killer," he told me, as another shot was set up in an elevator. "I wrote the script—it was originally called Get Out of the House—for five years. In the first ending, Chris was taken to jail! It changed so much. I didn't think it would see the light of day. My goal was to make a film about race without a white savior, and I didn't know if that would be allowed."
In Get Out, the transition from comedy to horror to race relations is so deft that the audience is seduced by the laughs and shock of the plot, without realizing it is being schooled on injustice. "I coined the term 'social thriller,' " Peele said. "I am pulling from the uncomfortable dynamics of real life. The truths in Get Out are bold: I wanted to have a twist and then an idea. You can't have too many twists or too many ideas!"
Peele turned his attention to the next scene in "Noir Town," the title he'd given his nouveau-Hitchcock story. He had chosen Monáe for the lead and also insisted on a female photographer, Collier Schorr. "I didn't want the Hitchcock heroine," he explained. "I wanted the Hitchcock hero. That way, we can reclaim this movie that we never got to see. The fear of gender and race robs us of beautiful pieces of film."
On set, Monáe was wearing a gray Michael Kors suit. The color was important: Gray suits are a legendary part of Hitchcock films. (To cite only two examples among dozens: Cary Grant runs through the cornfields in North by Northwest in an iconic gray suit, and Jimmy Stewart insists that Kim Novak buy a particular gray suit in Vertigo.) Monáe, who costarred in Hidden Figures and Moonlight in 2016 and has a new album coming out this spring, was very polite, but extremely particular about her character's presentation. "What do you think?" she asked Peele, pointing to a fedora on her head that she had been studying for quite a while. After some consideration, he decided to take off the hat.
In this scene, Peele said, the evil influencers were getting closer to Monáe's character. The detective was being observed and stalked by her dark-side others. As Peele told his crew to play the lush Bernard Herrmann soundtrack from Vertigo to create atmosphere, Monáe clung to an ornate elevator door. Peele spoke softly to her, "You just fired your gun. You'd kill anyone for $10,000. And you have been shot. You are collapsing. Your feelings are overwhelming." Peele paused as Monáe fell in slow motion. "So great," he said in an almost whisper. "Putting Janelle in that character is all you need to create my new favorite movie."
Janelle Monáe Stars in "Noir Town," Directed by Jordan Peele
Janelle Monáe wears a Burberry trenchcoat, vest, pants, and tie; Giorgio Armani shirt; Cartier watch; Robert Clergerie shoes. Beauty: Lancôme. Directed by Jordan Peele.
Janelle Monáe wears a Burberry suit; Fabiana Filippi shirt; Cartier watch.

Starring Janelle Monae; Directed by Jordan Peele; Photographs by Collier Schorr; Styled by Sara Moonves;
Starring Janelle Monae; Directed by Jordan Peele; Photographs by Collier Schorr; Styled by Sara Moonves;
Starring Janelle Monae; Directed by Jordan Peele; Photographs by Collier Schorr; Styled by Sara Moonves;
Far left: DSquared2 suit; the Row shirt; Nick Fouquet hat; Boss tie. Near left: Valentino tuxedo and blouse; Brioni tie; Cartier watch.

Starring Janelle Monae; Directed by Jordan Peele; Photographs by Collier Schorr; Styled by Sara Moonves;
Valentino tuxedo and blouse; Brioni tie; Cartier watch.

Starring Janelle Monae; Directed by Jordan Peele; Photographs by Collier Schorr; Styled by Sara Moonves;
Etro jacket and pants; Charvet shirt; Goorin Bros. hat; Perrin Paris gloves.

Starring Janelle Monae; Directed by Jordan Peele; Photographs by Collier Schorr; Styled by Sara Moonves;
Etro jacket and pants; Charvet shirt; Goorin Bros. hat; Perrin Paris gloves.

Starring Janelle Monae; Directed by Jordan Peele; Photographs by Collier Schorr; Styled by Sara Moonves;
Burberry trenchcoat, suit, vest, and tie; Giorgio Armani shirt; Cartier watch.

Starring Janelle Monae; Directed by Jordan Peele; Photographs by Collier Schorr; Styled by Sara Moonves;
Burberry trenchcoat, suit, vest, and tie; Giorgio Armani shirt; Cartier watch.

Starring Janelle Monae; Directed by Jordan Peele; Photographs by Collier Schorr; Styled by Sara Moonves;
Michael Kors Collection jacket and pants; 
Charvet shirt; Oliver Peoples glasses.

Starring Janelle Monae; Directed by Jordan Peele; Photographs by Collier Schorr; Styled by Sara Moonves;
Janelle Monáe wears a Valentino tuxedo and blouse; Brioni tie; Cartier watch; Goyard briefcase.

Starring Janelle Monae; Directed by Jordan Peele; Photographs by Collier Schorr; Styled by Sara Moonves; Hair by Nikki Nelms at Impaq Beauty; makeup by Dick Page at Statement 
Artists; manicure by Michelle Saunders for Essie at Forward Artists. Set 
design by Nicholas Des Jardins at Streeters. Lighting Design by Christopher Bisagni for Christopher Bisagni Studio; Retouching by two three two; Produced by Connect The Dots; Digital Technician: Jarrod Turner; Photography Assistants: Tim Mahoney, Alex Gay, Andrew Tonkery, Jared Fix; Fashion Assistants: Allia Alliata, Sam Walker, Nadia Beeman; Tailor: Lydia Jakubowski; Producer: Wes Olson; Production Coordinator: Kaitlyn Fong; Production Assistants: Ben Kilpatrick, Nikki Patrlja, Cedric Adajar; Special Thanks to Ian Cooper, Monkeypaw Productions, Heirloom LA, Quixote, Samys, Milk LA
Related: How Jordan Peele, Greta Gerwig and Luca Guadagnino Ended Up Directing W Magazine Covers