Bella Hadid Made Two Outfits Out of One Black Vest Over the Course of a Day
From black tie to blue jeans.
---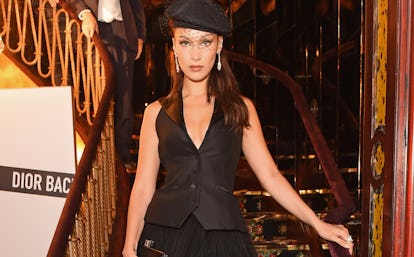 David M. Benett/Dave Benett/Getty Images for Dior
Bella Hadid may be one of the world's most recognizable and sought-after models, but she's just like everyone else in one respect: She wears looks more than once. Hadid not only wore the same black vest twice, she did so over the course of one day in two very different looks. Not surprisingly, Hadid has picked up some expert-level styling hacks in her modeling career, as she's managed to go from black tie to blue jeans within hours while only switching out her skirt for jeans.
Last night in London, Hadid arrived to the launch party for Dior's new affordable Backstage makeup line in a black vest with a sheer floor-length, flowy skirt and a black beret with an attached veil. Pairing the evening look with a clutch and drop diamond earrings, Hadid gave a tutorial for how to perfect a simple, elegant look with only a few key pieces.
What was more impressive is that when she left the party, she did so in a casual look. Hadid ditched her skirt and earrings, instead pairing her black vest with a pair of torn mom jeans, a black belt, and black sunglasses (yes, at night).
Considering Hadid is the world's ninth highest-paid model — per Forbes — and much of her wardrobe is likely gifted to her, she seems all the more low-key with her wardrobe repetition. Hadid has opened up before about her casual approach to getting dressed, telling Harper's Bazaar, "It usually takes me a short amount of time to get ready. I usually start with the pants that I will wear and work off of that. I think you should always have a major pair of glasses or purse to change up your look every day."
When she doesn't have any new items, she swaps out with her sister Gigi Hadid, who often raids her closet. "Growing up I was more of a tomboy and Gigi wore lots of color and florals," she told the Telegraph. "She was a Malibu girl, whereas I wore leather and black. These days she's always taking my clothes," said Bella. "She'll completely deny it, but I go over to her house and she has all of them, and I'm always like 'I don't even remember you being at my house to get this.'" Should Gigi go shopping in Bella's closet anytime soon, she should really jump at this black vest—as Bella has shown, the options for it are almost endless.