Prince Harry Broke the Rules and Didn't Shave His Beard For the Royal Wedding
A break with tradition on his big day.
---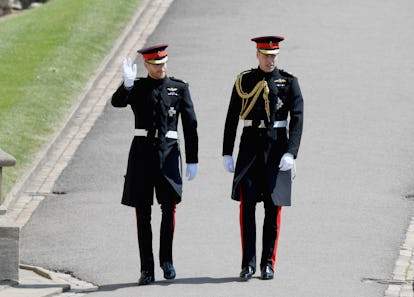 Shaun Botterill
Much of the attention for the royal wedding was on Meghan Markle, whom we can all now call the Duchess of Sussex. Which designer would design her dress? (Clare Waight Keller for Givenchy, to answer your question.) How would she do her hair and makeup? (Refreshingly simple and natural, it would seem.) But there was some debate about Prince Harry's grooming routine before the big day. Would he or would he not shave his beard?
See, Prince Harry is a Captain in the British Royal Army (aka Her Majesty's Army), and there's a longstanding rule in the British military that state's troops in uniform cannot have facial hair. And since Harry would be donning his uniform for the wedding, the thought was he may shave his beard—a signature part of his look that Markle has always known him to have. (Imagine if your spouse-to-be changed their look the day before your wedding?)
Well, in typical Prince Harry fashion, he broke the rules and kept his beard for the wedding—albeit nicely trimmed and more closely groomed to the face than usual.
It's not the first time, however, that a royal family member has used his status to get away with not having to shave. Harry's great-grandfather King George V was often seen with a beard despite his role in the Army. So while yes, the (now) Duke of Sussex was breaking the rules, he's not the first royal to skirt tradition.
Royal Wedding Photos: All the Celebrity and Royal Arrivals at Prince Harry and Meghan Markle's Ceremony at Windsor Castle
Meghan Markle with her mother Doria Ragland (unseen) drive down the Long Walk as they arrive at Windsor Castle ahead of her wedding to Prince Harry on May 19, 2018 in Windsor, England.

Richard Heathcote
Meghan Markle (R) with her mother Doria Ragland drive down the Long Walk as they arrive at Windsor Castle ahead of her wedding to Prince Harry on May 19, 2018 in Windsor, England.

Richard Heathcote
Meghan Markle arrives for her wedding to Prince Harry at St George's Chapel, Windsor Castle on May 19, 2018 in Windsor, England.

WPA Pool
Meghan Markle arrives for the wedding ceremony to marry Prince Harry at St George's Chapel, Windsor Castle on May 19, 2018 in Windsor, England.

WPA Pool
Queen Elizabeth II arrives at the wedding of Prince Harry to Ms Meghan Markle at St George's Chapel, Windsor Castle on May 19, 2018 in Windsor, England. Prince Henry Charles Albert David of Wales marries Ms. Meghan Markle in a service at St George's Chapel inside the grounds of Windsor Castle.

Shaun Botterill
Queen Elizabeth II arrives at St George's Chapel at Windsor Castle before the wedding of Prince Harry to Meghan Markle on May 19, 2018 in Windsor, England.

WPA Pool
Queen Elizabeth II arrives at St George's Chapel at Windsor Castle before the wedding of Prince Harry to Meghan Markle on May 19, 2018 in Windsor, England.

WPA Pool
Doria Ragland arrives at St George's Chapel at Windsor Castle before the wedding of Prince Harry to Meghan Markle on May 19, 2018 in Windsor, England.

WPA Pool
Meghan Markle arrives at St George's Chapel at Windsor Castle before the wedding of Prince Harry to Meghan Markle on May 19, 2018 in Windsor, England.

WPA Pool
Prince Harry (left) walks with his best man, Prince William Duke of Cambridge, as he arrives at St George's Chapel at Windsor Castle for his wedding to Meghan Markle, on May 19, 2018 in Windsor, England.

WPA Pool
Prince Harry and Prince William, Duke of Cambridge the wedding of Prince Harry to Ms Meghan Markle at St George's Chapel, Windsor Castle on May 19, 2018 in Windsor, England.

Shaun Botterill
Prince Harry (left) walks with his best man, Prince William, Duke of Cambridge as they arrive at St George's Chapel at Windsor Castle before the wedding of Prince Harry to Meghan Markle on May 19, 2018 in Windsor, England.

WPA Pool
Prince Philip, Duke of Edinburgh rrives at St George's Chapel at Windsor Castle before the wedding of Prince Harry to Meghan Markle on May 19, 2018 in Windsor, England.

WPA Pool
Princess Anne, The Princess Royal and Vice Admiral Sir Tim Laurence arrive at St George's Chapel at Windsor Castle before the wedding of Prince Harry to Meghan Markle on May 19, 2018 in Windsor, England.

WPA Pool
Amal and George Clooney arrive at St George's Chapel at Windsor Castle before the wedding of Prince Harry to Meghan Markle on May 19, 2018 in Windsor, England.

WPA Pool
Sarah, Duchess of York arrives at St George's Chapel at Windsor Castle before the wedding of Prince Harry to Meghan Markle on May 19, 2018 in Windsor, England.

WPA Pool
Abigail Spencer and Priyanka Chopra arrive at the wedding of Prince Harry to Ms Meghan Markle at St George's Chapel, Windsor Castle on May 19, 2018 in Windsor, England.

Chris Jackson
Serena Williams and Alexis Ohanian attend the wedding of Prince Harry to Ms Meghan Markle at St George's Chapel, Windsor Castle on May 19, 2018 in Windsor, England.

Shaun Botterill
David and Victoria Beckham attend the wedding of Prince Harry to Ms Meghan Markle at St George's Chapel, Windsor Castle on May 19, 2018 in Windsor, England.

Shaun Botterill
David and Victoria Beckham (both right) talk with Sir Elton John (L) and David Furnish (C) as they arrive in St George's Chapel at Windsor Castle for the wedding of Prince Harry to Meghan Markle on May 19, 2018 in Windsor, England.

WPA Pool
Julia Carey and James Corden attend the wedding of Prince Harry to Ms Meghan Markle at St George's Chapel, Windsor Castle on May 19, 2018 in Windsor, England.

Shaun Botterill
Idris Elba and Sabrina Dhowre followed by Oprah Winfrey (fourth right) arrive at St George's Chapel at Windsor Castle for the wedding of Meghan Markle and Prince Harry on May 19, 2018 in Windsor, England.

WPA Pool/Getty
Lady Kitty Spencer arrives at the wedding of Prince Harry to Ms Meghan Markle at St George's Chapel, Windsor Castle on May 19, 2018 in Windsor, England.

Chris Jackson
Cressida Bonas arrives at St George's Chapel at Windsor Castle before the wedding of Prince Harry to Meghan Markle on May 19, 2018 in Windsor, England.

WPA Pool
Actress Gina Torres (Markle's former costar on Suits) arrives at St George's Chapel at Windsor Castle before the wedding of Prince Harry to Meghan Markle on May 19, 2018 in Windsor, England.

WPA Pool
Oprah Winfrey arrives at St George's Chapel at Windsor Castle before the wedding of Prince Harry to Meghan Markle on May 19, 2018 in Windsor, England.

WPA Pool
Socialite Delfina Blaquier arrives at the wedding of Prince Harry to Ms Meghan Markle at St George's Chapel, Windsor Castle on May 19, 2018 in Windsor, England.

Chris Jackson
Charles Spencer, 9th Earl Spencer and Karen Spencer arrive at the wedding of Prince Harry to Ms Meghan Markle at St George's Chapel, Windsor Castle on May 19, 2018 in Windsor, England.

Chris Jackson
Sofia Wellesley and singer James Blunt arrive at St George's Chapel at Windsor Castle for the wedding of Prince Harry to Meghan Markle on May 19, 2018 in Windsor, England.

WPA Pool
Chelsy Davy, Prince Harry's ex, attends the wedding of Prince Harry to Ms Meghan Markle at St George's Chapel, Windsor Castle on May 19, 2018 in Windsor, England.

Shaun Botterill