Nicole Kidman Pressures Kit Harington to Propose to Rose Leslie
"So are you going to get married?"
---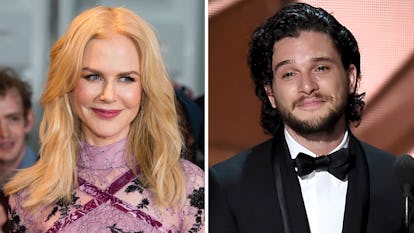 Composite. Getty Images
Nicole Kidman has emerged, somewhat surprisingly, as one of our most entertaining talk show guests. Especially when she's paired with other celebrity guests. See last month's side-eye showdown with celebrity chef Giada De Laurentiis on Ellen. Now she's kicking up more talkshow mischief with Kit Harington
Harington appeared on The Late Late Show With James Corden on Tuesday night alongside Kidman, and although he was a guest on the show to promote the upcoming season of Game of Thrones, he got more than he bargained for once the subject of his girlfriend, former fellow GoT actress Rose Leslie, came up in conversation.
Leslie reportedly just moved in with Harington, and the actor told Corden and Kidman how much he wanted his girlfriend to feel as though the space were "theirs," as opposed to just "his." Thus, he gave her free rein to make any changes she saw fit, and as the story goes, Leslie made a few alterations that were decidedly bigger than Harington anticipated by suggesting that they relocate entire rooms, like moving the kitchen to a different floor.
[#youtube: https://www.youtube.com/embed/EGdC9QHPuvU]
When Corden attempted to turn the conversation back to Kidman, she deflected in the best way possible, earnestly asking Harington the question on all our minds: "So are you going to get married or…?" Harington's "oh wow" response was equally priceless. Even though Kidman was tightlipped about her own relationship nuances during the interview, she had no problem "asking the tough questions" of Harington, as Corden pointed out. Kidman followed up her question with, "No, I just think it's kinda nice if you're gonna live together to, maybe, to at least get engaged," adding, with a laugh, "I'm working hard for her here!" referring to Leslie.
Harington, meanwhile, responded in the most diplomatic way possible. "I'm being put on the spot by Nicole Kidman," he said. "Step by step, step by step." So try as Kidman might, regarding an IRL Game of Thrones engagement, we still know nothing, Jon Snow.
Related: Nicole Kidman and Naomi Campbell Were Almost as Excited to Meet Each Other at Cannes as We Were to See the Pictures
Getting Ready with Rose Leslie
Photo by Victoria Stevens, Visual Editor: Biel Parklee
Photo by Victoria Stevens, Visual Editor: Biel Parklee
Photo by Victoria Stevens, Visual Editor: Biel Parklee
Photo by Victoria Stevens, Visual Editor: Biel Parklee
Photo by Victoria Stevens, Visual Editor: Biel Parklee
Photo by Victoria Stevens, Visual Editor: Biel Parklee
Photo by Victoria Stevens, Visual Editor: Biel Parklee
Photo by Victoria Stevens, Visual Editor: Biel Parklee
Photo by Victoria Stevens, Visual Editor: Biel Parklee
Photo by Victoria Stevens, Visual Editor: Biel Parklee
Photo by Victoria Stevens, Visual Editor: Biel Parklee
Watch: Kit Harington Auditioned for "Game of Thrones" With a Black Eye