Meet Jules Benchetrit, Lily-Rose Depp's New Stepbrother
Meet Jules Benchetrit, who is almost as cool as Lily-Rose Depp.
---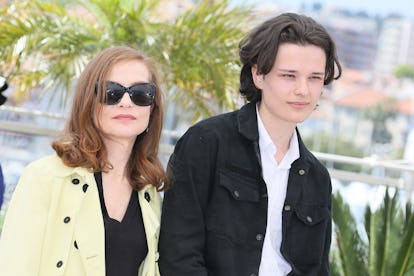 Tony Barson
Stepsiblings don't always get along, but we're sure Lily-Rose Depp, 19, can find something to talk about with her new stepbrother Jules Benchetrit, 20. They're both young actors who have been short-listed for the Cesar Awards, France's equivalent of the Oscars. They've both been inspiring fashion designers since before they had their driver's license. They've both shared scenes with legendary actresses. They both have great cheekbones. And now, after the surprise marriage of Depp's mother, Vanessa Paradis, and Benchetrit's director father, Samuel, this weekend, they're both part of the same family.
It's almost odd how much the two have in common until you realize that things like starring in fashion campaigns, doing spreads for international editions of Vogue, and dipping your toe in art house cinema acting probably just tend to happen to you when you're the genetically gifted child of a French celebrity. Whatever the case, let's meet Jules Benchetrit, who, incidentally, is set to shoot his English-language-film debut later this year.
He Made His Acting Debut at 11 Years Old in a Short Film for Yves Saint Laurent
While Depp has been a Chanel campaign star since 2016, Benchetrit became a Saint Laurent boy at 11. In lieu of a menswear presentation, the former YSL designer Stefano Pilati charged Samuel Benchetrit with directing a short film to show off the collection. Naturally, he cast his tween-age son in the lead role. Since then, Jules has also appeared in the pages of L'Uomo Vogue.
He's Acted For His Father and Other Notable French Directors Ever Since
Most notably, he shared scenes in his father's flick Asphalt with none other than Isabelle Huppert. He'll have his first lead role in Ludovic Bernard's Au Bout Des Doigts, which will costar Kristen Scott Thomas.
His Mother Was a Famous French Actress Who Died Tragically
Though Jules is his father's first son, he was the youngest child of the French actress Marie Trintignant (who was also the daughter of two famed French director-writers). Trintignant was one of France's most celebrated actresses and a five-time Cesar Award nominee, but her life was cut short at the age of 41 (when Jules was just four) when her then-boyfriend Bertrand Cantat, a French rock star, drunkenly beat her so viciously that she later died of a brain injury. Jules was raised in part by his father's now-ex-girlfriend Anna Mouglalis—another actress and former Chanel model (Mouglalis also has a daughter, Saul, with Jules's father). Paradis has also paid tribute to Jules's late mother before.
His English-Language Debut is on the Horizon
Don't expect a blockbuster, but French art house director Étienne Faure has cast him in his upcoming film River Bank as part of an ensemble that is made up of some of France's most promising young actors (Alain-Fabien Delon, the son of the French film icon Alain Delon, is also in the cast). "The next project is called River Bank. It will be an English movie, too, which we will shoot in a big forest in North America," Faure told The Upcoming. "A movie of five male characters who are isolated in a forest, nothing more. It is a very simple." According to IMDb, the film is still in pre-production.