Meghan Markle's Wedding Dress Took a Truly Impressively Long Time to Create
British designer Claire Waight Keller revealed the exact number of hours it took to create Meghan Markle's Givenchy wedding dress.
---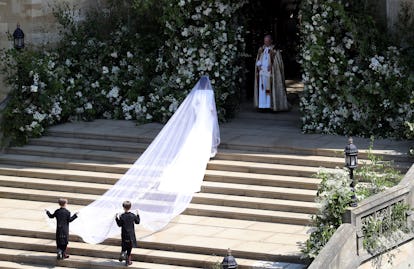 WPA Pool
Though Meghan Markle's wedding dress may have appeared to be a simple look, the craftsmanship behind the Duchess's Givenchy by Clare Waight Keller gown was no easy feat.
When it was reported that the bejeweled gown Blake Lively wore to the 2018 Met Gala took 600 hours to create, and Taylor Swift's dress worn at the 2018 Billboard Music Awards took 800 hours to make—both of which were designed by Versace—many were truly amazed to learn how long it took to make those couture gowns. But Markle's Givenchy wedding dress took a truly impressive amount of time to create.
While the gown worn by Meghan Markle at her wedding to Prince Harry at Windsor Castle may have appeared simple, it took much longer than Lively's and Swift's dresses combined to complete the look. Keller, the British designer who created the gown worn by the Duchess of Sussex, revealed to WWD that it took a whopping 3,900 hours to create the custom-made wedding dress. In addition to that time, about four whole months were dedicated to the creation of the gown. Not even Rihanna's ornate Met Gala Pope look, which was designed by Maison Margiela, hit the thousand-hour mark; her entire outfit took 750 hours to sew and hand-embroider.
It is unclear if those 3,900 hours of dress designing include the creation of Markle's 16-foot-long floral embroidered veil—but even if the veil is included in the total number of hours, that is still a considerable amount of time to spend creating a couture gown. But the simplicity of Markle's dress might not have been possible without the dedicated, fastidious design. As noted on the day of the ceremony, in order to achieve such a sleek and straightforward look, the dress had just six expertly executed seams.
Related: Meghan Markle's Wedding Dress Is Givenchy, and It's Stunning