Hugh Grant Is Reportedly Engaged to Longtime Girlfriend Anna Eberstein
The 57-year-old is finally tying the knot.
---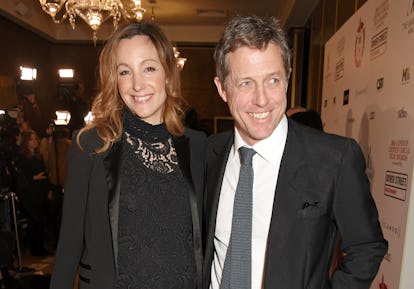 David M. Benett/Getty Images
In 2018, anything can happen: An American actress can marry a prince, celebs can keep entire weddings under wraps until they spill the beans in a revealing Instagram post, and permanent bachelor Hugh Grant can finally walk down the aisle. Nearly four years after fellow avowed singleton George Clooney surprised us all by tying the knot with human rights lawyer Amal Clooney, Grant, 57, has reportedly popped the question himself, to longtime girlfriend Anna Eberstein.
According to The Sun, Grant and Eberstein's wedding banns were posted on screens in the registrar's office of Chelsea Old Town Hall, in the London borough of Kensington and Chelsea. Per Brides U.K., wedding banns are legally required for all Church of England weddings and entail having your local minister and the minister of the church in which your wedding will take place publicly announce your plans to wed at least three times in the three months before your wedding; you must also formalize your intentions to marry by filing documents at your local town hall, which will remain on display in the office for 28 days.
Grant and Eberstein were first linked in 2012, and they have three children together. Their first child, son John Mungo, arrived in late 2012, though his birth wasn't revealed until his birth certificate was refiled, more than a year later. The notoriously private pair then welcomed a daughter in December 2015, though they still have yet to share her name. And earlier this spring, Grant's ex Elizabeth Hurley was the one to reveal that the actor and his Swedish fiancée had welcomed their third child together: "He had another last week. He has five," Hurley said on a March 2018 episode of Watch What Happens Live. Grant is also father to 6-year-old daughter Tabitha Xaio Xi and 5-year-old son Felix Chang with ex-girlfriend Tinglan Hong.
As recently as 2016, Grant was still swearing off marriage, which he called "unromantic" in a radio interview with Howard Stern at the time. "If you ask me the question, 'Do I think human beings are meant to be in 40-year-long, monogamous, faithful relationships,' no," he said. "Whoever said they were? Only the Bible or something. No one's ever said that's a good idea."
Related: Scarlett Johansson Has Some Very French Ideas About Monogamy
Hugh Grant: A Dashing Leading Man in His Bespoke Finest
Ermenegildo Zegna Made to Measure jacket, vest, shirt, trousers, and tie; Santoni shoes; his own studs.

Photographs by Ellen von Unwerth, Styled by Robert Rabensteiner
Hugh Grant wears a Prada Made to Measure coat, vest, shirt, and pants.

Photographs by Ellen von Unwerth, Styled by Robert Rabensteiner
Brioni by Justin O'Shea waistcoat, shirt, and trousers.

Photographs by Ellen von Unwerth, Styled by Robert Rabensteiner
Thom Browne. New York jacket, shirt, tie, tie bar, and pocket square.

Photographs by Ellen von Unwerth, Styled by Robert Rabensteiner
Hermès jacket and sweater.

Photographs by Ellen von Unwerth, Styled by Robert Rabensteiner
Kiton jacket, shirt, and pants.

Photographs by Ellen von Unwerth, Styled by Robert Rabensteiner
Photographs by Ellen von Unwerth, Styled by Robert Rabensteiner
Boss Made to Measure tuxedo and shirt; Boss tie and pocket square.

Photographs by Ellen von Unwerth, Styled by Robert Rabensteiner; Grooming by Petra Nina Sellge for Kiehl's and Bumble and Bumble; Photography Assistants: Stan Rey-Grange, Charlie Ryan; Digital technician: Ryan O'Toole; Fashion Assistant: Youngjin Kim; prop and set styling: Beatrice Hurst; taxidermy supplied by londontaxidermy.com; Production by Lucy Watson Productions; Special thanks to LouLou's. London