You Thought Amy Schumer's Wedding Vows Wouldn't Be Hilarious?
"I just wanted to plug some of my road dates."
---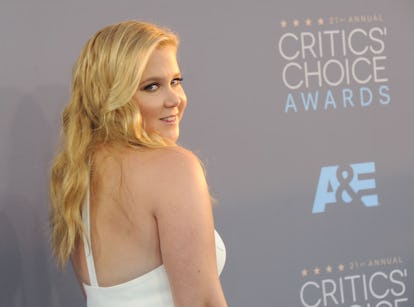 Gregg DeGuire/WireImage/Getty Images
Surprise! Everyone's favorite divisive comedian, Amy Schumer, truly gave people something to talk about earlier this February when she announced she married her boyfriend of a few months, Chris Fischer, in a small ceremony. From what Schumer has already chosen to share on social media, the event was a lovely Malibu, California, affair by the beach that featured some very VIP guests—such as her pals Jennifer Lawrence, Larry David, Jennifer Aniston, and Jake Gyllenhaal.
Now that she's had some time to reflect on her newfound wifey status, Schumer posted a moving video on her Instagram page to share with the world a few special moments from the ceremony. Soundtracked to a folksy rendition of "Rainbow Connection," the vows between her and Fischer — a chef based in Martha's Vineyard — effortlessly ebbed and flowed between that classic Schumerian comedy and real moments of poignancy.
"I love you, Amy. You bring happiness and joy to every part of my life," Fisher began. "You are the best thing to ever happen to me. I love you with every piece of my heart." Jokingly mouthing "f-ck!" before responding, Schumer than went off with her own vows: "I just wanted to plug some of my road dates," she said to a chorus of laughter from her guests. "People are wondering why the rush, why so fast. And it's because I truly can't wait another second to be your wife. I love you." The panoramic views of that Malibu beach also are pretty wonderful, too.
A day prior to the video's release, Schumer joked about how much she's enjoying being able to use marriage terminology. "I'm a wife as hell," she explained with a laugh. "But it's still, like, a novelty. Somebody went to sit next to [Fischer] and he's like, 'My wife is sitting here,' and then I got back and he was excited to tell me that he said that. I just have been really overusing it to a degree that's insane. Like, when it's completely uncalled for." You do you, Mrs. Fischer.
Related: Jennifer Lawrence Says She "Was Sobbing" Throughout Amy Schumer's Wedding