Amy Schumer Married Chris Fischer: Here's Everything We Know
The comedian and the culinary professional reportedly got married on Valentine's Day in Malibu, California.
---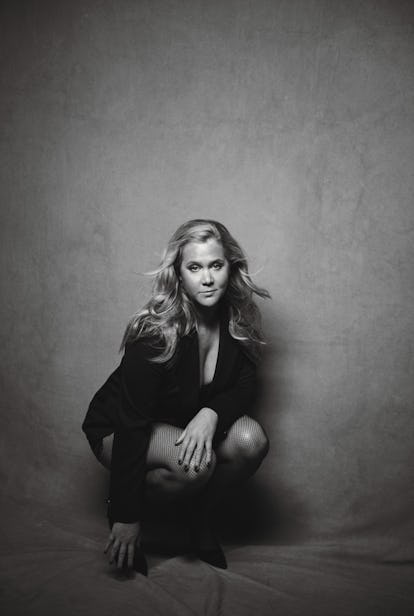 Mere days after Amy Schumer made her relationship with chef Chris Fischer Instagram official, the couple may have made their relationship official in the eyes of the government as well. The comedian and the culinary professional reportedly got married on February 13th in Malibu, California, in front a group of 80 guests that included Jennifer Lawrence, Jennifer Aniston, Jake Gyllenhaal, Larry David, Judd Apatow, and David Spade. To say that the nuptials come as a surprise would be an understatement, but sometimes when you know, you just know.
Of course, there's still a lot we don't know about the relationship, but here's a few insights we could gleam about the couple and the resulting matrimony.
Update: Schumer Just Confirmed the Ceremony on Instagram with a Carousel of Wedding Photos
A couple of takeaways:
Rising comedy star John Early, in character as midwestern mom comedian character "Vicky With a V," officiated the ceremony.
Two dogs, likely including Schumer's pup Tati, appeared to have served as the flower girl and ring barer.
Schumer's sister Kim Caramele served as one of the bridesmaids.
Lawrence, who sat second row on the aisle, attended in a belted pink dress.
Rumors The Pair Were Dating Popped Up in September, But They've Remained Very Low Key
Schumer announced the ending of her relationships with ex Ben Hanisch this past May, and rumors started bubbling up in September that she was dating Fischer. They seemed to be confirmed when the duo was snapped having dinner together in New York City in November. The pair were seen in public only a few times, and didn't make their relationship publicly official until just this weekend, when Schumer posted an Instagram of the pair kissing at Ellen Degeneres' star-studded birthday gala. It has been speculated that the pair got acquainted while Schumer was filming her upcoming film I Feel Pretty in Boston. Fischer is a chef in nearby Martha's Vineyard.
Fischer, a chef, is BFFs with noted foodie Jake Gyllenhaal
Fischer may not have been a famous name in his own right, but he's certainly acquainted with the A-list. He's been friends with Jake Gyllenhaal for years (so much so that there were once silly rumors floating around online that they pair were actually linked). He also used to be a sous chef for now-disgraced celebrity chef Mario Batali (in another layer: the Gyllenhaal family is longtime friends with Batali, which may explain how Jake and Chris had met in the first place). Since then Fischer has struck out on his own. His restaurant Beach Plum is allegedly a Martha's Vineyard favorite of none other than Barack and Michelle Obama.
Schumer and Fischer May Have Meet Through Gyllenhaal, or Through Amy's Assistant
Gyllenhaal has appeared on Inside Amy Schumer and it's possible he might have played matchmaker, though E! reports that Schumer's assistant is actually Fischer's sister. If true, it certainly seems like she may have been the more likely matchmaker.
The Wedding Capped Off a Busy Few Days of Partying for Many of the Celebrities Invited
Oh, to be a world famous icon with so many world famous iconic friends. Many of the attendees at Schumer's wedding must have been exhausted after all the celebrating they'd been doing these past few days. Degeneres' birthday was on Saturday, and many of the stars at the wedding, including Schumer herself, as well as Lawrence, Aniston, and even David Spade were also at that party. Aniston then held her own low key birthday celebration on Sunday.
The Whole Thing Came Together Pretty Quickly
According to The Blast, Schumer had invited even more famous faces, but it seems that the affair was a relatively last-minute decision and some just weren't in town.
Related: In First I Feel Pretty Trailer, Amy Schumer Is Joined By Supermodels Naomi Campbell and Emily Ratajkowski