Scarlett Johansson Has Some Very French Ideas About Monogamy
Scarlett Johansson joins Tom Ford, Shailene Woodley, and Jada Pinkett Smith in the growing chorus of celebs not fixed on monogamy.
---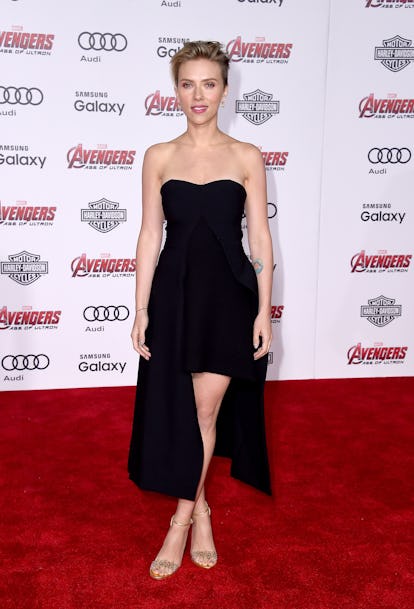 Scarlett Johansson may have that all-American look about her, but she's developed some very French views about love and sex. To wit: the A-list actress isn't too hot on the idea of strict monogamy right now. The revelation comes in a new interview with Playboy, though it appears to have been conducted before her split from husband Romain Dauriac was announced, as that isn't mentioned in the story.
Though, her thoughts about marriage in general are discussed thoroughly.
"I think the idea of marriage is very romantic; it's a beautiful idea, and the practice of it can be a very beautiful thing," she tells the mag. "I don't think it's natural to be a monogamous person. I might be skewered for that, but I think it's work. It's a lot of work. And the fact that it is such work for so many people—for everyone—the fact of that proves that it is not a natural thing. It's something I have a lot of respect for and have participated in, but I think it definitely goes against some instinct to look beyond."
The interviewer, Amanda Petrusich, then points out that a lot of marriages just don't work.
"I think marriage initially involves a lot of people who have nothing to do with your relationship, because it's a legally binding contract, and that has a weight to it," the actress explains. "Being married is different than not being married, and anybody who tells you that it's the same is lying. It changes things. I have friends who were together for 10 years and then decided to get married, and I'll ask them on their wedding day or right after if it's different, and it always is. It is. It's a beautiful responsibility, but it's a responsibility."
Well, what an interview to drop on the heels of Valentine's Day. Did you get your parents a bouquet of flowers with a card reading, "To your beautiful responsibility"?
According to the piece, the first part of the interview occurred about two weeks before the Women's March on Washington, and the second conversation occurred at the march. News of her impending divorce broke four days after the march. The pair, however, have since appeared in public together.
This, however, isn't the first time Johansson has spoken up about monogamy. In fact, in a joint interview she gave with [Natalie Portman](http://www.wmagazine.com/story/natalie-portman-figured-out-how-to-play-the-widow-jackie-kennedy-when-she-put-on-the-wig) in W back in 2008 she broached the topic.
"I've been battered for saying that I don't believe humans are monogamous by nature," she said at the time. "The response was, like, 'What a ho-bag!' I didn't mean that I don't practice monogamy in my own life—of course I do! I'm not going to be in some tarty relationship. But I stick by what I said." (Portman offered a differing view, stating, "I'm into monogamy.")
Johansson is not the first celebrity to have qualms about monogamy.
Designer Tom Ford, a one-man think tank on the topic of human sexuality, has claimed monogamy is "artificial," and told Arena once that "I do not think it's something that comes naturally to us." Modern day hippie starlet Shailene Woodley has also echoed her skepticism. "I don't even know if humans are genetically made to be with one person forever," she once told Elle. Jada Pinkett Smith also strongly hinted that her marriage to Will might be an open one, explaining, "Our perspective is, you don't avoid what's natural."
Scarlett Johansson's Favorite Love Story is Wall-E: