An Ambitious Calvin Klein Model Sets Her Sights on the Art World
A model accustomed to the spotlight, Myla Dalbesio is starting to get the attention of the art world's movers and shakers, and don't think she doesn't know it.
---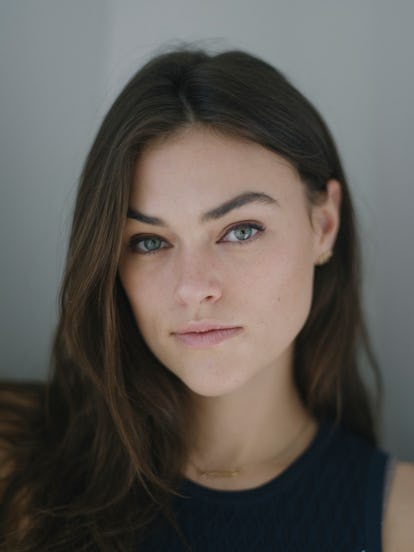 On a recent Tuesday, the line to get into the historic James A. Farley Post Office in midtown Manhattan stretched around the block, though it's safe to say no one was there to mail letters. It was opening night at Spring/Break, a sprawling New York art fair that packed the work of 800-plus artists into the building's former offices. A distinct art school meets Lord of the Flies vibe spread through the upper floors, like the kids had been handed the keys to the kingdom and decided to run wild.
There may have been over 100 shows, but one quickly stood out. With the work of 11 female artists, "You Can Call Me Baby" was impressive both for its size – it was displayed across five rooms – and for the poignancy of its message about female empowerment. Critics took notice, New York's Jerry Saltz in particular. "That show shook trees," he told me later.
The person responsible for the commotion, however, was nowhere to be found – she was in Paris, stomping down a runway for H&M with the likes of Pat Cleveland, Amber Valletta, and Jourdan Dunn. Her name is Myla Dalbesio, a model with campaigns as high profile as Calvin Klein under her belt who also moonlights as an artist and curator. Models have always enjoyed side gigs – DJ, "creative director," muse – but Dalbesio's ambition is more serious than most.
It's also paying off, and don't think she doesn't know it: When she encountered Saltz at the fair later in the week, the critic encouraged her to find his wife, the New York Times art critic Roberta Smith, because "she'll tell you if it's good or not." Dalbesio shot back: "I don't need her to tell me if it's good – I know that it's good!'" she recalled with a laugh.
With long brown hair and piercing blue-green eyes, Dalbesio, 28, is a garrulous speaker with the preternatural confidence of people who are paid for their good looks. "I just really believed in the work in the show," she told me comfortably last week. "I feel so strongly about all the artists I was working with and the concept behind it, so it was kind of like, 'How could this fail?"
Her path here as been an unlikely one: Ford Models plucked her out of obscurity as an 18-year-old at the University of Wisconsin-Madison, where she was studying fine arts, and moved her to New York shortly after her first year. While pursuing modeling full-time, she kept a toe in the arts, contributing to her friends' group shows, like a one-night-only art fair at a convent in Greenpoint that eventually inspired Ambre Kelly and Andrew Gori to create the Spring/Break fair in 2011. She's been a presence there ever since.
That same year also brought her first brush with the spotlight. At Chelsea Art Walk, she did a topless performance that involved, essentially, giving lap dances. "But instead of giving lap dances, I was communing with who sat in the chair and doing what I would refer to as faith healing," she explained. She sought to convey, she said, "the powerful healing that women can achieve through their bodies."
In the world of modeling, too, she was raising eyebrows. When in 2014, she was named one of the faces of Calvin Klein's "Perfectly Fit" campaign, the Internet commentariat exploded with incredulity over news articles that described her, a size 10 model, as "plus-sized." Soon, Dalbesio found herself on the Today show discussing body shame and image issues. "For a long time I really resisted the body image conversation, because I've never identified as plus and I didn't feel like I was even qualified to weigh in on that conversation. I was just kind of like, 'Can we talk about something else?'" Dalbesio said.
After the hubbub, though, she reconsidered. "It really cemented my desire to further the feminist movement," she said. "I'm one person, so everything bleeds into everything else. It made me more focused on making work about and with women, and also more work that explores the body."
So, for Spring/Break, she got together an all-female group of artists to turn symbols of misogyny on their head, "using them as an empowering force in their work and their life" – Erin M. Riley made a series of explicit tapestries riffing on XTube videos and pornography; Nicole Reber created poignant sandwich-board poems; and Brittany Asch contributed an evocative cascade of flowers. Kelly and Gori had assured Dalbesio they'd close off a room that was used for garbage, but it became one of the best rooms of the show when the artist Maggie Dunlap installed an immaculate white bed that appeared eerily suspended above the wreckage.
Most memorable, though, was "American Reflexxx" – the type of piece Dalbesio calls a "day ruiner, because they just really f— you up, but in a great way." Directed by Alli Coates, it's a video of performance artist Signe Pierce roaming the crowded streets of Myrtle Beach in South Carolina in a short, skin-tight dress and a metallic face-obscuring mask. The treatment that follows escalates quickly from appalling remarks about Pierce's gender to liquids thrown in her face to a gut-wrenching push to the pavement, causing Art F City's notably tough critic Paddy Johnson to declare Pierce "the bravest performance artist we've ever encountered." For Saltz, it was the most striking of the show's "epiphanies of women's agency, sexuality, and radical vulnerability."
The film had its fair share of premieres and press in 2015, but Dalbesio ultimately felt she had to include it: "She's standing there literally, bleeding covered in whatever they've been throwing at her, completely disheveled, but she's strong and powerful. That's the message I felt was most important to convey through my show," she said. Though an unorthodox choice for a curator, her move was hardly surprising to Kelly and Gori, who point out that Dalbesio always connects her work to a broader cultural narrative. "In everything she's done both as an artist and as a public figure, she's connected with the experiences of the marginalized or unseen," they wrote in an email.
As she straddles both worlds, Dalbesio's been struck by the similarities in her experiences in both art and fashion. She recalled one instance at an underwear shoot where the photographer found excuses to touch her and sent her explicit Instagram DMs. "Just because I get naked doesn't mean that I'm going to have sex with you, or that you're allowed to joke with me like that," she said. Similarly, "I've had men who own galleries slash magazines come to my studio for studio visits and literally try to make out with me."
Getting worked up on the subject, she wondered if it was all even worth it. "It's such a boys club, and it's so hard to break into. You have to be willing to really suck up to the men who are running this industry," she said. "For so long, it's like a lot of smiling and laughing and taking their jokes and listening to them try to mansplain your work to you. It's incredibly frustrating, and it feels like you can't say anything about it." One of the pleasures, in fact, of an all-female show was finally getting to talk about these issues with other women in the art world, who've all had their own fair share of nightmare experiences.
Now, though, she's starting to take things into her own hands. She just did a series of self portraits for Playboy, an experience she found "actually really positive" because they agreed not to retouch her photos. And for her next project, she's thinking of photographing strippers on and off duty across America.
"I just have so many ideas, always," Dalbesio said. "It makes it so hard to define myself because then I also take photos and I also write and I also curate sometimes. I feel like such an asshole when people are like, 'What do you do?' and I'm like, well I do this and this and that, and it sounds so dumb."
Even with all that, she's doing more modeling than ever. Now signed with Next, Dalbesio may be on the older end for the industry, but she definitely isn't giving it up any time soon. "A lot of the work that I've done with modeling I would say is art," she said. Plus, it has its perks: "Outside of that, it's great to pay the bills," she added with a laugh.
Photos: An Ambitious Calvin Klein Model Sets Her Sights on the Art World
Myla Dalbesio. Photo by Mark Hartman.
Myla Dalbesio. Photo by Mark Hartman.
"The Bloody Chamber" (2016) by Maggie Dunlap in "You Can Call Me Baby."
"Rita Hayworth Gave Good Face" (2014) by Renee Dykeman in "You Can Call Me Baby."
"Lovely Thorns, Singing Vultures (hands)" (2016) by Logan White in "You Can Call Me Baby."
"Stripper Heel Slime" (2012) by Signe Pierce in "You Can Call Me Baby."
Tapestries by Erin M. Riley (2015); table and boards by Nicole Reber (2016) in "You Can Call Me Baby." Photo by Samuel Morgan Photography, © SPRING/BREAK Art Show.
"Bob Ross Baby" (2015) by Miza Coplin in "You Can Call Me Baby."
Installation by Brittany Asch in "You Can Call Me Baby." Photo by Katie Thompson.
"Here Kitty, Kitty II" (2014) by Carlotta Kohl in "You Can Call Me Baby."
"In My Room" by Myla Dalbesio.
"The World In You" by Myla Dalbesio.