When Was the Last Time Ivanka Trump Liked One of Tiffany Trump's Instagrams?
After Ivanka commented on Karlie Kloss's post, we had to wonder.
---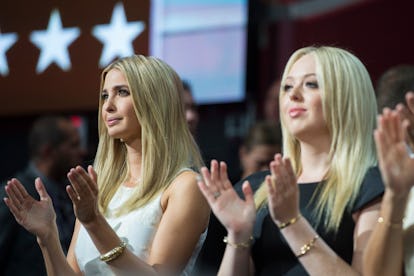 Tom Williams
Ivanka Trump was one of many celebrities that offered public congratulations to model Karlie Kloss after she announced her engagement to finance executive Joshua Kushner earlier this week, and for understandable reasons. Trump is married to Joshua's brother, Jared Kushner. "So, so happy for you and Josh!" Trump wrote in an Instagram comment. "I feel blessed to have you as a sister (!!!) Karlie and look forward to the decades of happy memories we will create together as a family!"
Trump and Kloss have, quite obviously, met and were last spotted in public together among the extended Kushner clan attending the 2016 US Open. But just about everyone in America right now understands how recent political developments have made dealing with extended family tense (Kloss openly supported Hillary Clinton in the election, and the Kushner brother's father, Charles, had been a longtime mega-donor to the Democratic party before 2016). Yet much has been made of the fact that Kloss has yet to respond or like the Instagram comment from her "sister (!!!)."
Still, who knows what went down in private communication, and besides, busy women don't have time to keep up with every little thing that happens on Instagram.
But it made us wonder when the last time Ivanka Trump had found time to comment on or even like a photograph her actual sister, Tiffany, had posted on the network. While the family's Twitter activity is easier to monitor (there's an entire automated Twitter account dedicated to it), tracking Instagram activity is a little bit harder. So, we fired up our Finsta, followed both Tiffany and Ivanka on Instagram (assuring that Instagram's algorithms would automatically highlight likes between the two), and got deep into our political science research.
Turns out that Tiffany likes Ivanka's posts on pretty a regular basis. The last one she smashed that Like button on was a slideshow Ivanka had posted to commemorate the announcement of the Trump administration's "Our Pledge to America's Workers" just six days ago.
Other recent posts Tiffany has liked in the past months included one highlighting Ivanka's trip to a summer camp and another that showed the White House senior advisor balancing on a tree trunk that had fallen into a river. Tiffany also liked a post Ivanka made announcing the Kim Kardashian–instigated pardon President Trump handed out to Alice Johnson, and another photo of Ivanka with her youngest child. That's just a selection from this summer alone.
The situation over on Tiffany's profile is, well, a little bit different. We started clicking through photos and could find no evidence of a like from Ivanka all summer. We checked and checked and double-checked again. Our search dragged on through spring, and then back into winter, in search of Ivanka throwing her younger sister a like on Instagram (and, as it turns out, Ivanka is the far more active user of the platform, at least by volume of posts).
Interestingly, Ivanka hasn't liked or commented on one of Tiffany's posts in all of 2018.
By the time we got to a video of the two sisters together that Tiffany had posted the day after Christmas and realized Ivanka hadn't even "liked" that, we were concerned.
Finally, on December 9, 2017, we found the most recent evidence of Ivanka interacting with Tiffany on Instagram. She liked a video Tiffany had posted celebrating the first snowfall of the season in Washington, D.C. About a week before that, Ivanka liked a photo that Tiffany had posted of the two of them together.
Phew—finally some confirmation that Ivanka even knows her little sister has an Instagram account.
Of course, the development made us realize something else: Throughout the years, Tiffany has posted numerous photos of just the two Trump daughters together. In fact, Ivanka appears on her grid more than other relatives from the Trump side of her family tree, even more than their father.
Meanwhile, the last time Tiffany appeared on Ivanka's grid was back in September 2017, for National Sister's Day. Ivanka chose to post a photo that also included her sister-in-laws, Lara and Vanessa Trump.
Since that time, Ivanka has posted more one-on-one photos with Treasury Secretary Steven Mnuchin than she has with her little sister.
Like we said, they're all just busy women. It's just Instagram, right?
Related: Tiffany Trump Continues to Live Life Like She's Not a Trump at All