It Shouldn't Take Kim Kardashian to See a Little Justice in America's Broken Criminal Justice System
Alice Marie Johnson is finally walking free, but what about the rest of the inmates in the world's largest jailer?
---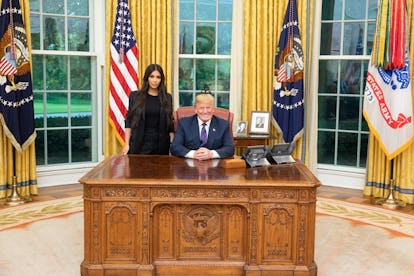 RealDonaldTrump/Twitter
It took less than a month for Donald Trump to pardon the former Arizona sheriff Joe Arpaio, who was convicted of criminal contempt for allegedly racial profiling on a regular basis; violating the rights of and detaining Latinos; and, most notably, running an outdoor jail in Phoenix so inhumane that even Arpaio himself once referred to it as a "concentration camp" in the New Yorker.
As for the many, many other prisoners who are still behind bars in the country that's the world's leading jailer? Almost none of them have been so lucky—except for one whose case just so happened to catch Kim Kardashian's eye. Though she'd been in federal prison without parole since her arrest for a first-time, non-violent drug offense since 1996, last October, 63-year-old Alice Marie Johnson was suddenly the center of attention when Kardashian shared her story with her millions of followers. And while she's kept it quiet, Johnson has held Kardashian's attention ever since: she's spent months working with Jared Kushner to secretly schedule the now infamous summit with Trump at the White House.
In the week since their "great meeting," as Trump put it, Kardashian has publicly thanked Trump, accepted the CFDA's first-ever Influencer Award, and impressively keep track of everything she wore in the month of May. And then came the news from Capitol Hill: On Wednesday, Mic announced what Kardashian quickly called the "BEST NEWS EVER!!!!" (complete with three prayer hand emojis)—that Trump had indeed chosen to grant Johnson clemency.
In their statement, even the White House said that Johnson has "been a model prisoner over the past two decades," and has both "worked hard to rehabilitate herself in prison" and "act as a mentor to her fellow inmates." Kardashian, for her part, once again thanked the president, telling her 60 million Twitter followers that she was "so grateful" to Trump, Kushner, and "everyone who has showed compassion & contributed countless hours to this important moment for Ms. Alice Marie Johnson."
But this isn't only an important moment for Johnson; it's also an important moment for America to reflect on just how far one has to go to find even a chance of justice in the country which is home to 25 percent of the world's prisoners, despite being home to five percent of the world's population. With more than 2.2 million people behind bars, even if the rest of the core Kardashians joined in on Kim's efforts to devote themselves to the criminal justice system, it'd take well over the inmates' collective lifespans—as in a casual 180,000-plus years—for all of their cases to be heard.
Still, Kardashian "hope[s] to continue this important work by working together with organizations who have been fighting this fight for much longer than I have and deserve the recognition," which does indeed seem like a promise she'll keep, given her track record in advocating for gun control. (She's already tapped the same high-profile lawyer who worked on Johnson's case to also stand up for Cyntoia Brown, a teenage victim of sex trafficking who has been in prison for decades since killing her rapist.)
Kardashian's goodwill aside, it should not take the most famous person in America spending months to organize a single meeting with the president for a single prisoner to be heard. Our enormous system is so glaringly broken that, for example, black people are incarcerated for drug offenses at a rate 10 times higher than that of white people in America, despite using drugs at largely the same rates. Over the years, celebrities like Jay-Z and Ava DuVernay have used their own platforms to draw attention to these much larger issues—which are unfortunately less heartwarming, and therefore less headline-generating, than stories of a great-grandmother bursting into tears upon receiving the news of her freedom from Kardashian herself.
There are, of course, other factors at play when it comes to Kardashian's success, especially when you consider how she's taken action with her past causes. In her last open letter about gun control, for example, she unabashedly called out Trump for his legislative actions, which she summed up with a simple "This is crazy!" Maybe the president forgot about all that—though even if he hasn't, it's hard to imagine Trump could resist consorting with someone as famous as Kardashian.
Related: Kourtney Kardashian Testified on Capitol Hill In a Crop Top