Kim Kardashian, Newfound Social Justice Warrior, Speaks Out on Gun Violence (and Donald Trump)
Kardashian blogged about constitutional rights and gun control in honor of National Gun Violence Day.
---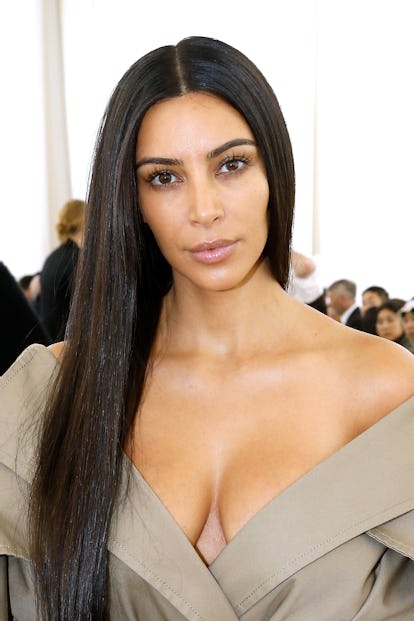 Bertrand Rindoff Petroff/Getty Images
Over the last 24 hours, Kim Kardashian seems to have turned into something of a social justice warrior: Not only has she joined the club of celebrities like Leonardo DiCaprio who've protested President Donald Trump's withdrawal of the United States from the Paris Climate Agreement, but she also published an essay against gun violence on her personal blog on Friday, aka National Gun Violence Day. This year's edition, Kardashian took care to note, comes 18 years since the shootings at Columbine, 10 years after Virginia Tech, four years after Sandy Hook, and nearly one year after the massacre at Pulse, a gay nightclub in Orlando. Not that any of those tragedies seem to have changed much.
"In almost 20 years, our country has made very little progress in enacting laws that would help protect innocent Americans from people who should not have access to firearms," Kardashian wrote, adding that right now, there are more guns owned by American civilians than in any other country in the world. Indeed, "in February of this year, President Trump actually signed a bill revoking a regulation recommended by President Obama that would have added 75,000 names of people with registered mental illnesses to a national background check database," Kardashian continued, helpfully noting her opinion that "This is crazy!"
Of course, as of last year, Kardashian herself is unfortunately no stranger to gun violence; she's been decidedly less public ever since last October, when she went through the traumatic experience of being robbed at gunpoint in her hotel room in Paris by two armed, masked men dressed as police officers, who then left her tied up on the floor. "I thought, 'okay, this is the moment they're going to rape me.' I fully mentally prepped myself," Kardashian said when she first spoke about what went down that night, six months later.
Even before that, though, Kardashian supported the nonprofit Everytown for Gun Safety, and she, Kourtney, and Khloé had lunch with gun violence survivors on Keeping Up with the Kardashians months before her assault. All that seems to mean she's more than comfortable speaking out against the NRA—and the way American lawmakers interpret the Constitution. "We have imposed restrictions on a number of constitutional rights for the sake of protecting people in this country, including freedom of speech and the right to exercise religious beliefs, so why is the second amendment any different? Is it more important to protect the second amendment than to protect our own children?" Kardashian asked, before encouraging discussion. "Maybe you think so, maybe you don't—but it's important for us to at least continue to discuss and debate this openly, and to bring attention to the reality of gun violence and gun control."
Ever the PR master, Kardashian did also take care to make sure she doesn't come across as an extremist—a worry her sister Kendall Jenner seemed to have had when she refused to speak up in support of the cause for fear of resulting "hate" and "backlash" last year. "I'm not against guns and I'm not against people owning guns," Kardashian said, directly addressing her assault in Paris and therefore understanding of the importance of safety and "armed security."
What Kardashian does advocate, then, are stricter gun control laws, especially concerning those with mental illness, past misdemeanors, and restraining orders. And, importantly, that no one is "numbed by the increasing number of gun-related tragedies we see on the news."
"We all have a voice and a right to feel safe, to be protected from people who are a threat, particularly when handed a deadly weapon," Kardashian continued. "I want to help build a safer future for my children and I believe together we can find ways to do that, while still protecting the rights of the American people." Kendall Jenner, take note: This is what (at least the beginnings) of an actual protest looks like.
Related: Kim Kardashian and Kendall Jenner Get Real About Their Robberies
Watch: Kim Kardashian Takes W's Screen Test:
Kim Kardashian's Most Memorable Looks
Pulling an Angelina in Altuzarra in Beverly Hills.
Photo by Getty Images.
Keeping it simple in a sleek black suit.
Photo by Getty Images.
Matching baby North in head-to-toe tan.
Photo by Getty Images.
Rocking Givenchy maternity at the 2014 Met Gala.
Coordinating in one of many long coats in New York.
Photo by Getty Images.
And a textured one, too.
Photo by Getty Images.
In a sheer Proenza Schouler dress at the 2015 CFDA Awards.
Photo by Sherly Rabbani.
Looking chic in head-to-toe black at a Paris gym.
Photo by Getty Images.
Right on trend in a barely-there Roberto Cavalli dress at the 2015 Met Ball.
Photo by Sherly Rabbani and Josephine Solimene.