KEEPING UP WITH THE KARDASHIANS
Kim Kardashian and Kendall Jenner Get Real About Their Robberies
Jenner followed her sister's lead in firing her bodyguard on the weekend Kardashian tearily recounted her harrowing assault on the now resumed Keeping Up with the Kardashians.
---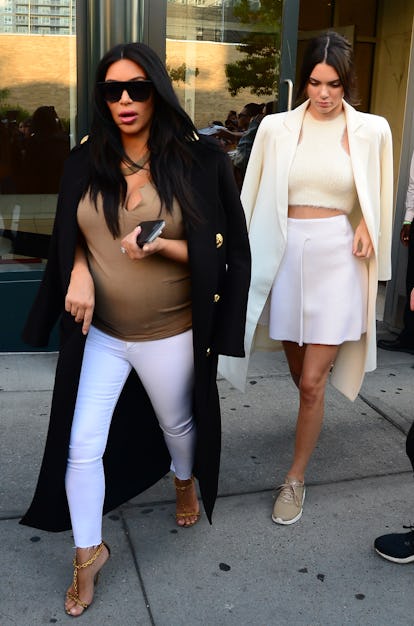 Raymond Hall/Getty Images
Desperate times call for desperate measures, which is why, back in November, Kim Kardashian parted ways with her beloved bodyguard Pascal Duvier after she was robbed at gunpoint in Paris this past October. Now, in an unfortunate instance of keeping things in the family, her sister Kendall Jenner is following suit: she fired one of her own security team members after $200,000 worth of jewelry was stolen from her home in Hollywood Hills last week.
Unlike Duvier, who was out with Kourtney Kardashian when the robbers came by, Jenner's guard was posted outside of her home at the time, which is why Jenner and police seem convinced the robbery was something of an inside job. (Bling, like her Cartier and Rolex watches, was apparently stolen when Jenner stepped out around midnight, leaving her friends in her apparently otherwise untouched home for about an hour last Thursday.)
In other words, the incident wasn't nearly as orchestrated as the heist that not only claimed $5 million worth of Kardashian's jewelry, but put Kardashian through a harrowing experience she only finally described months later on this weekend's episode of the now resumed _Keeping Up with the Kardashian_s—after a tweet storm, that is. "Tonight's episode is going to be very tough for me," Kardashian posted in a series of nine tweets on Sunday night before the episode aired (barring a slight interruption in the form of a photo thanking Starbursts for a sizable delivery of its all-pink variety).
"However, I thought it was important to share this story through my eyes & not in an interview where my own words could be twisted," Kardashian continued. "I have always shared so much & I'm not going to hold back when this was probably one of the most life changing [sic] experiences for me."
Life-changing, indeed: as Kardashian tearily recounts in the episode, the encounter started with two men dressed as policemen entering her Paris hotel room with its handcuffed concierge in tow, whom they apparently made show them to "the rapper's wife" and then act as their translator for their demands, first of which was Kardashian's $4 million engagement ring. Next came Kardashian's realizations that she might be shot in the back if she made a run for it as she was dragged from the hall back to her hotel bed.
"I thought, 'okay, this is the moment they're going to rape me.' I fully mentally prepped myself," Kardashian said.
Instead, the robbers duct taped her face and legs and pointed a gun at her head, which is how Duvier later found her—a traumatic experience nonetheless, the recounting of which made Kardashian burst into on-air tears. No wonder, then, that Jenner is also doubling down on her own security by installing more security cameras—not that all that stopped her this weekend from doing what she does best: stealing the show on Instagram.
Kendall Jenner Recalls How She Rented Out Magic Mountain on Her Birthday: