Jennifer Hudson Sounds Off on Gun Control
The actress speaks about her Broadway debut The Color Purple, Spike Lee's new film, and her personal stake in the debate over gun violence.
---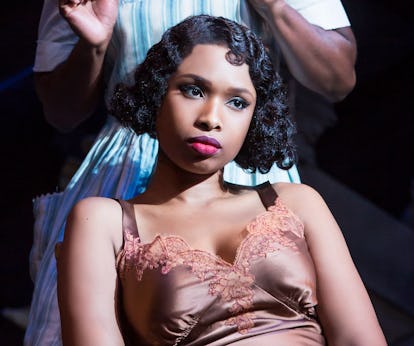 Considering she's excelled in several mediums, the most surprising aspect of Jennifer Hudson's casting in the new revival of The Color Purple is that it marks her Broadway and New York theatre debut.
After all, she singer-actress parlayed her early dismissal from American Idol in 2004 into a prolific career, winning an Academy Award for her role as Effie White in Dreamgirls, a Grammy for her self-titled debut album, and now a recurring character arc on TV's hottest show, Empire.
How had she not already rocked the floorboards in a Broadway musical?
Well, the wait is worth it. Hudson has thrown herself into the part of Shug Avery, the preening, intoxicating love interest of the long-suffering protagonist Celie (and also the mistress of her abusive husband), in this adaptation of the Pulitzer Prize winning novel by Alice Walker, opening December 10 at the Bernard B. Jacobs Theatre. ____ In a very different context, she also stars in Spike Lee's polemical Chi-Raq, a parable about the American gun epidemic based on Aristophanes' Lysistrata. Hudson, who has a personal stake in the debate, revealed herself unafraid to sound off on gun control.
You signed on to The Color Purple before being told you were going to play Shug Avery. Was she someone you had identified with when you saw the original musical or was there another character you had in mind? Seeing the film, seeing the play, any of that, I had never as an actor been like, 'I would play [this person] or if I was in, I would play [this person].' I never had that moment. But I'd assumed due to playing Effie [White] in Dreamgirls that it would be a no brainer that I would be Sofia. That would seem more likely.
Why were you initially surprised at the idea of playing Shug and what changed? What I can say now looking back and thinking is that when you think of Color Purple, you know instantly with Sofia she has this big, robust personality. She's a strong woman and she's just, Bam! in your face. But Shug…she has an arc, so it's hard to just channel in on Shug and get a grip on her. You have to think about it. But now that I'm playing Shug, in the show, she's the light of the stage, she brings the color into the story. And that's who I am in person as well. And she's a singer. And it's the first glamorous role I've ever gotten to play. Normally my roles are very heavy, emotional and things like that, but it's really nice to play a lighter character, a more glamorous character, a more comedic character. That's fun.
She's also very sexual, she oozes seduction. Did you have to work on developing that? Definitely and I'm still working on it. But it's fun to do, discovering it and finding it and being comfortable in that way to display it, you know? It gives me an excuse to do it. I think it's a great introduction to that kind of role, because it's a first for me.
Has Shug overflowed into your life in any way? It's always weird to me how when you portray a role, you find that character is a lot like yourself. Like Shug is a strong woman, she's a positive woman, she's a successful woman, she's a beautiful woman, she's a sexy woman… all of these things. And she's a wise woman. One of my favorite lines is, "Why any woman give a s–t what people think is a mystery to me." That's my attitude. I don't give a s–t what you think. You know what I mean? Why would we be worried about that? That's one of those lines that makes me realize how Shug and I are alike.
This is your Broadway debut. What has been the biggest challenge for you? It's an intimate theater, but it's still wide open. And coming from film and television and entertainment, being in a studio is more personal. Being in front of a camera is more one-on-one. You get another chance it. And also when I'm performing on stage I can really look into people's faces and people's eyes and get their reactions. But here, it's the complete opposite. It's not personal. It's wide open. And the previews were still rehearsals. And it felt like, 'Oh my god, you people are in my rehearsal!' And as far as acting, it's a more unnatural approach. So that's different for me to learn the language of theater acting.
There has been a refreshing amount of diversity on Broadway this season from George Takei's Allegiance to On Your Feet!. And of course there's Hamilton. What are your thoughts on race and Broadway? I hope people see the work and not so much the color in it. And I think it's amazing even to see so much diversity in the crowd. It shows you the meaning and the purpose of a story like this. And in the play when we're singing "Look What God Has Done" look at us: we're brought together. And this is a story telling you of a time when we weren't all together. So it reminds you of the power of the story, which makes it all worth more, why we do what we do. In that moment, we connect, we all become one, we're humans and that's not just on the stage, it's in the audience. We're one. It's powerful.
I'd read the last time you were on a stage in a theatrical production was on a Disney cruise? I was on a Disney cruise line the year I decided to audition for American Idol. I was Calliope the muse in Hercules: The Muse-ical and I was also the Circle of Life soloist in Disney's cruise. So yes, that was the last time I was on stage doing theater. And in that show, I narrated the show, I did a lot of singing and we had a lot of choreography, as well. It's part of how I got Dreamgirls because they took that as an acting credit.
So what was your run on the cruise? My contract right now for this is exactly what it was for the trip: a six-month contract on the Disney wonder cruise ship. I'm grateful for that because it's so long ago and now I'm on Broadway and it's like, 'Okay, this is me.' Before then, my only other theater job was as Felicia Fields [in Big River] when I was 19-years-old, so I've had some theater experience, but it's still like hopping into oncoming traffic on a Broadway stage. Like, 'Uh, oh.'
What was the cruise ship experience like for you? I thought it was great for then. It was great for my age. It was great for me as a talent that was trying to be a performer. And I actually gave myself that as a test to decide if I was going to go for American Idol. Like okay, I'm gonna go get on this ship. If I cannot get through this ship, I do not need to go an audition for Idol. But if I get through it, then I can go. And I made it through it.
Who knew a Disney cruise ship could be a Broadway feeder! And you're also in the Spike Lee film Chi-Raq, which just opened and in which you play the mother of a young girl killed by gunfire. I heard Spike Lee was nervous to ask you to be in it because of your personal history [Hudson's mother, brother and nephew were shot and killed by her sister's former partner in 2008]. Did you hesitate in taking that role? Yeah, of course. It's like, you're asking a lot. This is reality for me. This is my life. A part of my life. And I definitely had that moment of like, 'Are you serious?' But when I really thought about it, I understood why he came to me and I thought, 'You know what? It's worth me telling my story so that hopefully no one else has a story like this to tell.' The film we're doing is trying to save my city, as my mother said, take care of home. So for that reason I was like, 'Okay, I get it, it's worth doing.' But I don't think it's anything I will ever, ever revisit again.
It's deeply sad and terrifying that the movie opened against the backdrop of two horrific incidents of gun violence in America. What are your thoughts on the timing of the film? If we didn't have these issues, I don't think a movie like that would have needed to be made. That's the point of making it, to make people pay attention and say, 'Guys, we have to start somewhere.' And it's not just the city of Chicago. It's everywhere. It's a bad time right now, no matter where we look. Kids can't go to school, people can't go to church, you can't go to the movies. It's like, what are we doing to ourselves? What's happening? We're acting like animals. It's unfortunate that things are this way, but it's not going to change unless we do something about it. Even in filming the movie, there were times where more and more incidents kept happening. And Spike kept writing it into the movie. Those who don't get it, it's like, how don't you get it when this is what the issue is? And if you do have a problem with it, have a solution to come along with it. What plan do you have? How do you not try? And what are we supposed to do—just kill each other? It's a scary time no matter who you are, where you go, what color you are, where you live, honey.
Photos: Jennifer Hudson Sounds Off on Gun Control
Jennifer Hudson in "The Color Purple." Photo by Matthew Murphy.
Jennifer Hudson and the company of "The Color Purple." Photo by Matthew Murphy.
Jennifer Hudson and Cynthia Erivo in "The Color Purple." Photo by Matthew Murphy.
Cynthia Erivo, Jennifer Hudson, Isaiah Johnson and the company in "The Color Purple." Photo by Matthew Murphy.
Naomi Campbell, Donatella Versace, and Jennifer Hudson at the Versace Spring 2015 party. Photograph by BFAnyc.com.
Jennifer Hudson at the New York City Ballet. Photo by Patrick McMullan.
Jennifer Hudson attends the Women In Film Pre-Oscar Cocktail Party presented by MaxMara, BMW, Tiffany & Co., MAC Cosmetics and Perrier-Jouet at Hyde Sunset Kitchen + Cocktails. Photo by BFAnyc.com.
Jennifer Hudson in Kaufmanfranco at the 2014 CFDA Awards.
Photos by Sherly Rabbani and Josephine Solimene.
Jennifer Hudson in Vera Wang at the 2011 Met Gala.