Kim Kardashian Hired an Ace Lawyer to Free Cyntoia Brown and Alice Johnson
The lawyer, Shawn Holley, has worked with Nicole Richie, Tupac, and was on O.J. Simpson's defense team.
---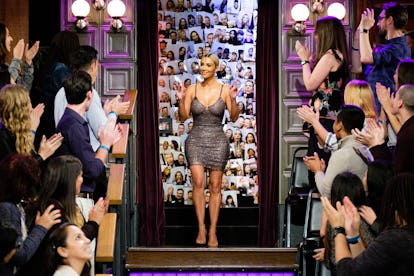 CBS Photo Archive via Getty
Kim Kardashian West was one of so many who were moved by the case of Cyntoia Brown, a teenage victim of sex trafficking who escaped her rapist by shooting and killing him and has already served years in prison. Unlike most of us, however, Kardashian is in a position to actually help Brown, and has hired her a top-notch lawyer. She's also taken on the cause of Alice Johnson, "a 62-year-old grandmother and former FedEx worker… 21 years into a life sentence for her first-time, nonviolent drug conviction," per the NY Daily News. Both cases were publicized by the ACLU in a campaign to bring awareness to mass incarceration and have since gone viral, with many celebrities voicing their support for Johnson and Brown and dismay over the legal system's perceived failings.
"The system has failed. It's heart breaking to see a young girl sex trafficked then when she has the courage to fight back is jailed for life! We have to do better & do what's right. I've called my attorneys yesterday to see what can be done to fix this. #FreeCyntoiaBrown," wrote Kardashian on November 21.
The lawyer she called is Shawn Holley, an LA-based attorney who has worked with high-profile clients like Nicole Richie and Tupac. She, along with Kim's father Robert Kardashian, was on the team of lawyers who helped O.J. Simpson win an acquittal in 1995 for the murders of Nicole Brown Simpson and Ron Goldman.
"Kim asked me several weeks ago how she could help Alice Johnson in her fight for justice. We then began corresponding with Alice and her team of lawyers… Since then, Kim has championed the cause of Cyntoia Brown and asked me to help her get involved in that effort as well," Holley told the NY Daily News.
"We were very, very appreciative of the fact that such an incredible number of celebrities would join our plea," said Nashville-based lawyer Charles Bone, who has been working on Brown's case pro bono.
Hopefully Kim continues to use her wealth to do good. She can certainly afford it after her perfume made ten million in a day.
Related: Everything Kim Kardashian Has Worn This Week Was Exceptionally Boring, and That Is Okay
Halloween Couples Costumes Ideas That Are Celebrity Approved
Kourtney Kardashian and Kim Kardashian as Michael Jackson and Madonna at the 1991 Academy Awards.

Kourtney Kardashian/Instagram
Jonathan Cheban and Kim Kardashian as musical icons Sonny and Cher.

Kim Kardashian/Twitter
Gwyneth Paltrow dressed as her character in David Fincher's Se7en.

Gwyneth Paltrow/Instagram
Zoë Kravitz and Karl Glusman as Marla Singer and Tyler Durden from Fight Club.

Zoë Kravitz/Instagram
Doug Middlebrook and Ariana Grande as the feuding Joan Crawford and Bette Davis.

Ariana Grande/Instagram
Marina Diamandis and a friend dressed up as Fiorucci Angels.

Marina Diamandis/Instagram
Zayn Malik and Gigi Hadid as Spider-Man and The Black Cat from Marvel Comics.

Gigi Hadid/Instagram
Cameron Esposito and Rhea Butcher as Jack Twist and Ennis Del Mar from Brokeback Mountain.

Cameron Esposito/Instagram
Gabrielle Union and Dwayne Wade as Milli Vanilli.

Gabrielle Union/Twitter
Chloë Grace Moretz and Maika Monroe as Kenickie Murdoch and Danny Zuko from Grease.

Chloë Grace Moretz/Instagram
Tristan Thompson and Khloe Kardashian as Khal Drogo and Daenerys Targaryen from Game of Thrones.

Khloe Kardashian/Instagram
Kyle Draper and Laverne Cox as Jeannie and Major Nelson from I Dream of Jeannie.

Kyle Draper/Instagram
Mike Rosenthal and Jen Atkin as Napoleon and Pedro from Napoleon Dynamite.

Jen Atkin/Instagram
Ryan Seacrest and Kelly Ripa as Handmaids from The Handmaid's Tale.

Ryan Seacrest/Instagram
Wells Adams and Sarah Hyland as Eleven and Dustin from Stranger Things.

Sarah Hyland/Instagram
Amber Rose and her son, Sebastian Taylor Thomaz, as Tiffany and Chucky from Child's Play.

Amber Rose/Instagram
Sarah Michelle Gellar and Freddie Prinze, Jr. as Andy and Duckie from Pretty in Pink.

Sarah Michelle Gellar/Instagram