Everything Kim Kardashian Has Worn This Week Was Exceptionally Boring, and That Is Okay
The world's most famous reality star is not the world's most adventurous clothes-wearer.
---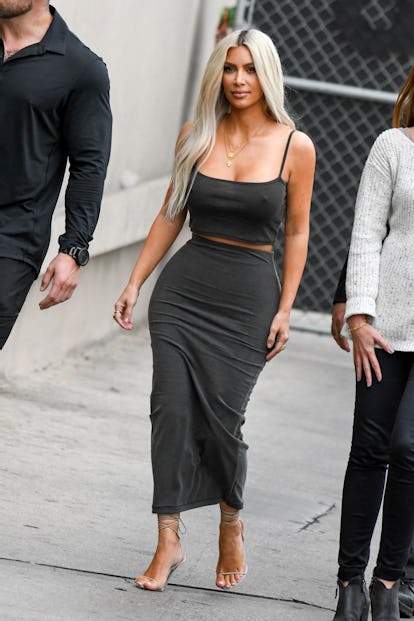 PG/Bauer-Griffin
Kim Kardashian's Instagram grid looks like a particularly boring Thanksgiving dinner plate. There are no healthy greens; no antioxidant-heavy sweet potatoes; no neon blue Jell-o mold that your grandmother inexplicably makes year after year. It is just buttered rolls; a slab of turkey; a pile of mashed potatoes. It's shades of beige; the basics that will taste good and leave you satiated. That's because Kim Kardashian's Instagram grid is full of pictures of Kim Kardashian's clothes. Kim Kardashian, it turns out, is an exceptionally boring dresser—but that's okay. It just wasn't always the case.
When the world first met Kimberly Noel Kardashian over a decade ago, her wardrobe was filled with bold jewel tones, busy prints, and more trendy silhouettes than your local Forever 21. It was the mid Aughts, after all, and Kardashian was Paris Hilton's assistant. Then came along Kanye West, armed with an assistant, to overhaul Kardashian's wardrobe—on camera, no less—leaving behind those trendy, colorful items in favor of fashion-forward pieces in strictly neutral hues. ("Kanye wanted to give me a makeover," Kardashian said on Watch What Happens: Live earlier this year.) And thus, the beige Kardashian that we've come to know was born.
A lengthy scroll through the beauty mogul's Instagram feed is confirmation enough that the reality star is deeply dedicated to her current aesthetic. Over the past year, Kardashian has exclusively worn a color palette of black, white, grey, army green, navy blue, beige, and maroon, all in a different variation of the same silhouette: an impossibly tight top, often of the cropped variety, paired with a midi-length skirt or baggy sweatpants and staggering high heels.
Take this past week, for example. While out on the promo circuit for her new KKW Fragrances, Kardashian did the talkshow rounds, appearing on The Real, The Late Late Show With James Corden, and Ellen, wearing a skintight white ankle-length dress, a skintight grey minidress, and skintight grey midi-dress, respectively. At night, there was her fragrance launch dinner, where she wore a ruched, white long-sleeved gown, not unlike ruched, white long-sleeved gown she wore to the Met Gala, and a dinner for Bumble Bizz, where she wore an oversized tuxedo blazer, not unlike the oversized tuxedo blazer she wore to LACMA's Art + Film Gala.
But here's the thing: Kim Kardashian doesn't need to be an adventurous dresser. This is a woman who makes news every time she walks out of her house. Imagine if she walked out of her house wearing a hot pink, feathered top, or bright yellow ballgown, or basically anything else Rihanna wears on a daily basis? You'd never hear the end of it. Think back to that floral, Met Gala dress that Kardashian wore while pregnant with North West in 2013. Now think about how long it took for those memes to go away. Do you think Kardashian wants to wake up to that everyday with a different outfit?
And, at this point, whether you like it or not, Kardashian doesn't have to pay attention to trends because she makes trends. Just look at Instagram, where the prevalence of Yeezy and athleisure is unavoidable among the street style set. At 5'3″, and with a famously curvy figure, Kardashian isn't going to be able to wear runway samples, and why should she? She's better off wearing what she loves, and letting the masses copy her as they wish.
So, let Kim Kardashian keep her boring, Thanksgiving-dinner palette of a wardrobe. It goes better with those contour sticks, anyways.
Related: Kim Kardashian Is Not a Fan of Khloe Kardashian's Style, So She Gave Her a Makeover
Fall Fashion Advice from a Very Young Stylist