Kim Kardashian Is Not a Fan of Khloe Kardashian's Style, So She Gave Her a Makeover
"If I've already learned the tricks of the trade, there is no reason why I shouldn't help her."
---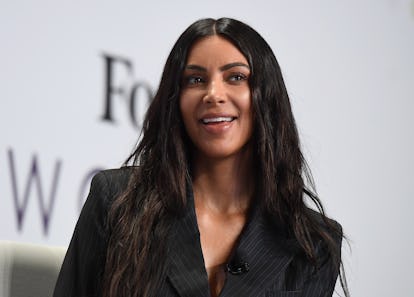 ANGELA WEISS/AFP/Getty Images
Kim Kardashian's experience in closet organization is highly documented. There's the infamous clip of Paris Hilton demanding that she "clean and organize all of my closet," back when that actually was Kardashian's job. Then there's the time that she let then-boyfriend Kanye West give her a makeover, complete with one giant purge of her existing wardrobe. And on Sunday night's episode of Keeping Up With the Kardashians, she returned to her happy place with one specific mission: to give little sister Khloe Kardashian a makeover.
The idea sparked as Kim scrolled through Khloe's Instagram feed while hanging out with Kourtney. "I always cringe when I look at Khloe in outfits," she said. "You know what it is? She's so trendy, and I used to be that way, but she's like that on steroids." Case in point: an image of Khloe in a black lace bodysuit and jeans—an ensemble she'd worn not too long ago herself. "That's the exact outfit I wore in Miami. I would give her such good advice on this outfit. That is a vintage Saint Laurent from a dealer in Dubai, it was like seven stylists. If I've already learned the tricks of the trade, there is no reason why I shouldn't help her."
Kim approached Khloe with her plans without any sugar coating. "I think I can make your life so much easier and so much cooler if I gave you a makeover," she announced. "It's time to just step it up. Not that you need one. But just to get rid of some of your sparkly boots and whole vibe."
Khloe got defensive, saying, "I actually get told I have really good style from a lot of people." Kim responded with perhaps the world's most epic eye-roll—truly, it is a work of art. "What people," she said.
Ignoring this act of savagery, Khloe questioned the logistics of a makeover. "What sister are you trying to morph me into? Kendall's a f-cking gazelle, and then you and Kylie are like the sexpots of the world."
Of course, Kim didn't need to answer–without an official go-ahead from her sister, she broke into Khloe's closet to pack for her upcoming trip to Santa Barbara. Her analysis of Khloe's closet? "Cheesy as f-ck."
"I just think I can help Khloe have more simple style," she added. "Her body really is the accessory. For me, I am so curvy that if I try to put other things on it, I look like a joke."
Khloe was less than amused. "This is so mean. I don't think I have terrible taste but apparently you guys do." Her Kim-approved ensemble for dinner? A cream-colored, skin-tight dress. "I look like I'm shopping at the Yeezy store," she very correctly stated.
But in the end, Khloe came around to the idea of the makeover. "I actually needed it and you packed me this great Céline dress and all this stuff that came in handy," she said. "I was very Kim K. You are welcome to come over and pack for me anytime. Because you did such a good job, I want you to come and style me."
But alas, Kim had already exhausted herself. "I love you but it is super overwhelming. Just too much going on. I don't have time and I'm not running around and doing all of that. Those days are over. I resign already."
Hey, those Kimojis aren't going to promote themselves.
Related: Kim Kardashian Says Unflattering Paparazzi Pictures Have Given Her Body Dysmorphia
9 Famous Kids Who Ruled the Runway at New York Fashion Week 2017