Paris Hilton Shared the Ultimate Throwback Photos From a 2006 Vacation with Kim Kardashian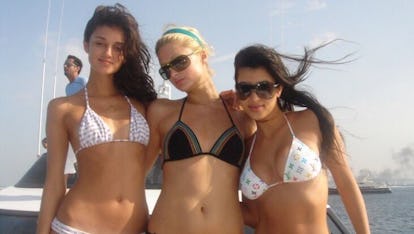 Paris Hilton/Twitter
Paris Hilton appears to have been hit by a powerful wave of early 2000s nostalgia. Not only did the heiress recently announce that she'll be releasing a 2017 remix of her 2006 instant classic "Stars Are Blind," but she also took to Twitter over the weekend to share a collection of throwback photos from a vacation she and Kim Kardashian took with DJ Caroline D'Amour more than 10 years ago.
"Good Times in Ibiza," Hilton tweeted, adding the hashtag, "#GirlsTrip2006." In the photos, the fresh-faced twenty-somethings pose in (Louis Vuitton monogram-covered) string bikinis, in crowded clubs and with ice cream cones. They sport the early-2000s uniform of oversized sunglasses, wide headbands and slouchy saddle bags, making it even easier to imagine that each of the photos was snapped on a Motorola Razr or T-Mobile Sidekick.
Although Kardashian — who was once in charge of clearing out and reorganizing Hilton's closet — has since surpassed her old friend in name recognition and reality show episode count, she still appreciated the throwback. "Best trip!!!" she captioned a retweet of Hilton's post. D'Amour, however, still has yet to react publicly to the photos.
Last week, Hilton, 36, announced the upcoming release of both her newest single, "Summer Reign," and her 23rd fragrance, Rosé Rush. In the sample she shared of the new song, Hilton sings over a synthesized beat about the ecstasy of summertime, a season that she, apparently, rules: "When it feels this good I come alive, when it feels this good I get so wild. When it feels this good, welcome to my summer reign." Just a few days after breaking this exciting news, Hilton tweeted, "We're working on the new 2017 remix of 'Stars Are Blind.'"
Here's hoping Hilton's return to music and insistence on dredging up decade-old memories means she's plotting her return to the icon status she so carefully cultivated at the turn of the millennium with every utterance of her signature catchphrase, "That's hot."
Related: Paris Hilton Invented Everything You're Doing in 2017, and She Knows It
Paris Hilton Breaks Down Her 13 Favorite 2000s Trends, And Why They're Still Hot:
Paris Hilton's 20 Most Iconic 2000s Looks, From Juicy Couture to Rhinestones
Paris Hilton celebrates her 21st Birthday Party at the Stork Rooms in London wearing a chainmail halter dress and rhinestone choker necklace.

Dave Benett/Getty Images
Paris Hilton interviews the designer Jeremy Scott backstage while wearing a Von Dutch t-shirt and pink Juicy Couture sweatpants with her flip phone on the belt.

L. Cohen/Getty Images
Paris Hilton arrives at 'Guy's Club' in Los Angeles wearing a "Got blow," tank top, low-waist pants, and a rhinestone belt.

Getty Images
Paris Hilton poses with Nicole Richie in matching denim suits (and nothing underneath) outside The Lounge club in West Hollywood.

Getty Images
Paris Hilton shops Kim Kardashian in Sydney, Australia. They both wear white and carry oversized metallic Louis Vuitton bags and sunglasses.

PhotoNews International Inc./Getty Images
Paris Hilton wears all the trends: A New York Dolls shirt, fishnet tights, platform boots, arm warmers, a rhinestone, choker, and tinted lenses outside the Sunset Marquis.
Paris Hilton wears a Pony tank top, hat, and sweatband paired with a very miniature mini skirt to a party for the photographer Jamel Shabazz in Los Angeles.

Amy Graves/Getty Images
Paris Hilton wears a shirt that says, "I love shoes, bags, and boys," while out in New York City with her dog.

James Devaney/Getty Images
Paris Hilton wears a tiara and carries a pink Barbie bag at the Palazzo Suites at the Rio Hotel in Las Vegas, Nevada.

J. Vespa/Getty Images
Paris Hilton wears track pants on the red carpet during the Gen Art: Fresh Faces in Fashion event in Los Angeles.

J. Vespa/Getty Images
Paris Hilton discards her fur coat to show off a "Savage art" top while at a performance of The Pussycat Dolls in Hollywood.

Chris Polk/Getty Images
Paris Hilton dances at Light Nightclub in the Las Vegas Bellagio Hotel wearing a black slip dress with rhinestone trim and fishnet garters.

Denise Truscello/Getty Images
Paris Hilton poses in a cabana at the Cannes Film Festival wearing a bikini, fur coat, Dior choker, and oversized sunglasses.

J. Vespa/Getty Images
Paris Hilton wore a blue rhinestone dress and tiara to the New York celebration of her 21st birthday at Studio 54.

Ron Galella, Ltd./Getty Images
Paris Hilton wore a see-through pink dress and tiara to the California celebration of her 21st birthday at the GQ Lounge in Los Angeles.

J. Vespa/Getty Images
Paris Hilton attends an Armani Jeans and Vibe party wearing extremely low-waist, lace-up pants, a red one-shoulder top, and a matching beret.

Evan Agostini/Getty Images
Paris Hilton holds her late dog, Tinkerbell while wearing a pink Adidas tracksuit following the 2003 Golden Globes awards ceremony.

Amy Graves/Getty Images
Paris Hilton attends the premiere of "How High" in New York wearing an "I adore Dior" shirt with Eloise on it.

Ron Galella, Ltd./Getty Images
Paris Hilton wears an American flag chainmail halter top and denim skirt to a party celebrating Francois Nars' new book, "Makeup Your Mind."

Sylvain Gaboury/Getty Images
Last but not least: Paris Hilton wears a black slip dress, fur coat, and cowboy hat on the red carpet in the 2000s.

Ron Galella/Getty Images