Kourtney Kardashian Testified on Capitol Hill In a Crop Top
Capitol Hill looked a little like Calabasas on Tuesday.
---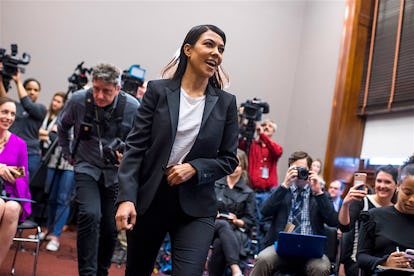 Tom Williams/Getty Images
It may only be Tuesday, but what with Emmanuel Macron in town and Melania Trump romping around in an unmissable white hat, Capitol Hill has already had an especially eye-catching week. Then, this morning, the only thing that could amp things up further happened: a Kardashian was added into the mix, when one Kourtney Kardashian was suddenly spotted posing with her fans and working her angles on the front steps of the Senate's Russell State Office Building.
To be fair, standing with her hands on her hips and turning to face the cameras and city wasn't necessarily just Kardashian turning the Senate and Capitol "into a runway," as one Washington, D.C. correspondent put it. That stance in particular doubles as a so-called power pose, aka the Wonder Woman-like stance that Amy Cuddy popularized as a quick and easy way to gain some confidence and get down to business, which just so happened to be on Kardashian's agenda for the morning. She wasn't just in town to sightsee, but also to testify for Senate staffers, teaming up with the nonprofit Environmental Working Group to make the case for reform at a briefing on the legislation surrounding ingredients used in cosmetics and personal products.
For the occasion, Kourtney pared things down in a black suit and white top, looking as at home on Capitol Hill as she usually does in the hills of Hollywood in the photos that emerged from inside the meeting. Like a true Kardashian, though, that took some serious strategy: Her white top turns out to have just been long enough to appear normal while seated inside—and short enough to flaunt her hard-earned abs while standing out front.
Sure, the ensemble is a bit much when you take into consideration that Kardashian was likely looking to make headlines on this Tuesday in particular—which she just so happens to have chosen as the drop date for her capsule beauty collection via her sister Kylie Jenner's beauty line. But it's also a bit ingenious in drawing attention to her much less sexy—and therefore, of course, less market-friendly—initiative to update the legislation surrounding cosmetics, which has remain largely unchanged since 1938. (And that, as Kardashian detailed in the office building, is why she got started on #BeautyMadeBetter, having worried too many times about the quality of the products she puts on her kids.)
In any case, Kardashian also seems to be on a mission to bring the crop top to the Capitol. The night before, Kardashian and her pal Sarah Howard, a beauty consultant, posted mirror selfies of themselves on Instagram stories wearing shortened business attire: crisp white belly button-friendly button-ups.
With work for the "little lobbyist," as Howard called Kardashian on Instagram Stories, out of the way, the pair went on to fulfill their civic duty as tourists, visiting the Lincoln Memorial, taking in the cherry blossoms, and checking out some Alexander Calder. They also went the extra mile and tacked on a meeting with the Wisconsin Senator Tammy Baldwin—the only legislator lucky enough, it seems, to get a photo with Kardashian's toned midriff. (At least on Kardashian's Instagram—it's strangely missing from the version that the Senator tweeted.)
Related: Inside Kourtney Kardashian's Birthday Dinner Turned Kanye West Album Listening Party
Selena Gomez, Miranda Kerr, Zendaya and More Crop Top-Obsessed Celebrities
Selena Gomez is seen on June 02, 2017 in Los Angeles, California.

Getty
Romee Strijd and Jasmine Tookes seen in the streets of New York during the New York Fashion Week on September 12, 2016 in New York City.

Getty
Elle Fanning attends the '20th Century Women' Premiere during the 54th New York Film Festival at Alice Tully Hall, Lincoln Center on October 8, 2016 in New York City.

Getty
Kristen Stewart is seen walking in Soho on March 9, 2017 in New York City.

Getty
Kylie Jenner is seen on January 10, 2017 in Los Angeles, California.

Getty
Karlie Kloss is seen in the West Village on November 4, 2016 in New York City.

Getty
Jourdan Dunn at the LOVE and Burberry London Fashion Week Party at Annabel's celebrating Katie Grand and Kendall Jenner's #LOVEME17 on February 20, 2017 in London, United Kingdom.

Getty
Taylor Hill is seen on March 27, 2017 in Los Angeles, California.

Getty
Hailey Baldwin at 'Rei Kawakubo/Comme des Garçons:Art of the In-Between' Costume Institute Gala at Metropolitan Museum of Art on May 1, 2017 in New York City.

Getty
Gwyneth Paltrow attends the UCLA Mattel Children's Hospital's Kaleidoscope on May 06, 2017 in Culver City, California.

Getty
Sofia Richie is seen on May 19, 2017 in Los Angeles, California.

Getty
Kendall Jenner attends the Fashion for Relief event during the 70th annual Cannes Film Festival at Aeroport Cannes Mandelieu on May 21, 2017 in Cannes, France.

Getty
Emily Ratajkowski arrives at Nice airport ahead of the 70th annual Cannes Film Festival at on May 16, 2017 in Cannes, France.

Getty
Zendaya is seen outside Good Morning America on June 20, 2017 in New York City.

Getty.
Gigi Hadid is seen in NoHo on June 28, 2017 in New York City.

Getty
Miranda Kerr is seen upon arrival at Narita International Airport on July 9, 2017 in Narita, Japan.

Getty
Zoey Deutch attends Max Mara and Vanity Fair's celebration of Women In Film's Face of the Future Award recipient, Zoey Deutch at Chateau Marmont on June 12, 2017 in Los Angeles, California.

Getty
Delilah Belle Hamlin is seen on July 11, 2017 in Los Angeles, California.

Getty
Bella Hadid is seen walking in Soho on July 19, 2017 in New York City.

Getty
Rowan Blanchard attends the Chanel dinner celebrating Lucia Pica and the Travel Diary Makeup Collection at Capo on July 12, 2017 in Santa Monica, California.

Getty