Melania Trump Wore a White Hat and Suit and Twitter Was Quick to React With Scarface, Beyoncé, and Celine Dion References
From 'Scarface' to Celine Dion.
---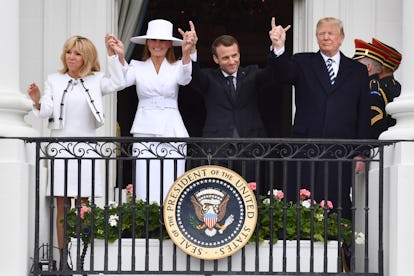 Nicholas Kamm / AFP
Whether consciously or not, there is always more to Melania Trump's outfits than meets the eye. At the second presidential debate, she wore a Gucci "pussy bow" blouse, days after Donald Trump's lewd boasting about sexually assaulting women went viral. Last fall, the first lady stepped out in pieces from Raf Simons's Calvin Klein debut, which doubled as his critique of America. Most recently, the Trump matriarch wore a white suit by Michael Kors and a matching white hat from her stylist Hervé Pierre, which was rife with hidden meanings — intentional or not.
White, of course, is the color of the suffrage movement. It is also a color worn frequently by her husband's former political opponent Hillary Clinton. Beyond the symbolism of the color, though, Trump's outfit is rich with cultural references — and Twitter was quick to react with them following her meeting with the president, French president Emmanuel Macron, and his wife, Brigitte, who also wore white. One obvious comparison to Trump's white suit and hat is to Michelle Pfeiffer's Scarface character Elvira Hancock.
The reference is fitting, not just because both outfits are near identical. In the scene where Pfeiffer wears the Bianca Jagger–inspired suit, she's swatting away advances from her eventual husband Tony Montana. When she first appears in the suit, she's reluctant to get into his car, despite his persistence. That will sound eerily familiar to those who viewed video footage of Trump's white suit moment, where she not only dodged a kiss from her husband, but she also unsuccessfully batted away his attempt to hold her hand, which resulted in an excruciating 13 seconds.
Despite that seemingly perfect comparison, there are plenty of others to be found in her outfit as well. For one, it's reminiscent of one famously worn by Celine Dion.
It also follows a white hat and suit look worn by Lady Gaga to JFK airport in 2015.
Some, on the other hand, traced the lineage of it to the HBO series The Young Pope.
Others saw a distorted mirror image of the all-black outfit Beyoncé wore in her "Formation" video.
Meanwhile, others commented on the similarity between Trump's all-white look and the Scandal human rights crusader Olivia Pope, played by Kerry Washington, whose signature look was all white. That's, however, where Trump's stylist Pierre drew the line. "What happened?" he asked WWD after being asked about the reference. "Kerry Washington? She's an actress? I will have to Google something." While he's at it, he may as well do a quick Twitter search for references to Trump's outfit, too.