Could This $165 Million Roy Lichtenstein Painting Help Reform America's Criminal Justice System?
Art collector and philanthropist Agnes Gund used the proceeds from one of the highest priced art sales in history to create the Art for Justice Fund, which aims to address America's mass incarceration.
---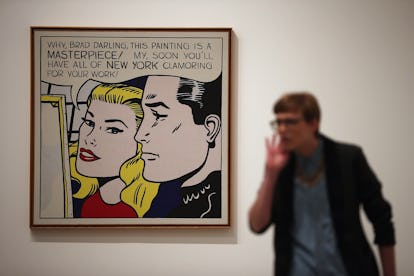 Dan Kitwood/Getty Images
Since the mid-'60s, Agnes Gund, the philanthropist and former president of the Museum of Modern Art, has been amassing one of the art world's most storied art collections, which currently includes some 2,000 major artworks, including those by her late friends like Roy Lichtenstein and Ellsworth Kelly. So it wasn't too big of a deal earlier this year when she decided to sell Masterpiece, a 1962 painting by Lichtenstein—even though its sale, at $165 million, put it in the top 15 highest-priced known art deals in history.
What is new for Gund, who's lately selling off pieces of her collection to bolster her philanthropy, is that she freed the Lichtenstein from its prized spot above her Upper East Side mantlepiece so that she could put $100 million from the sale toward addressing mass incarceration—a cause for which she's created the Art for Justice Fund, benefitting groups working on criminal justice reform. (The Ford Foundation, Gund's partner, is covering the operating costs so that all of the proceeds go to programs and grants directly.)
The funds are sorely needed. The U.S. is home to 25 percent of the world's prisoners, despite being home to five percent of the world's population. That chasm carries over to the the country's criminal justice system's unequal (and unfair) targeting of people of color; indeed, the Bureau of Justice now projecting that one in three male black children in America is expected to eventually end up incarcerated.
That latter statistic hits especially close to home for Gund, who told the New York Times that she's been worrying about the future of the six of her 12 grandchildren who are African-American, in the wake of the fates of Trayvon Martin and others. She's also been studying up on Michelle Alexander's book The New Jim Crow: Mass Incarceration in the Age of Colorblindness and Ava Duvernay's documentary 13th, the latter of which partly inspired the Art for Justice Fund.
Duvernay just tweeted her gratitude.
And while the weighty and race-related issue of prison reform historically hasn't seemed to appeal to even the most philanthropic of the world's premier art collectors, just one day into the fund's announcement, Gund seems to be having no trouble getting over two dozen collectors to come onboard as contributors, including Kenneth I. Chenault, chief executive of American Express, and Laurie M. Tisch, a chairwoman of the Whitney Museum. Here's hoping they also have a few more Lichtensteins to spare.
Related: These Posters All Over Brooklyn Expose the Racism in Media
Meet the Chameleons of the Art World, aka the Humans of Frieze New York: