The Year in Culture: Fran Lebowitz, Whoopi Goldberg, Claire Danes and More Celebs Weigh in on Their Obsessions
Plus Alan Cumming, Adrien Brody, Maggie Gyllenhaal, Jill Soloway, Brooke Shields, and others share their culture diets.
---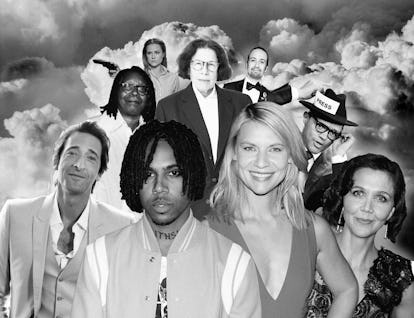 Collage by Alex Hodor-Lee
While some celebrities spent the year as firmly nestled in their niche as ever—the novelist Jonathan Safran Foer, for one, toiled away in Brooklyn, writing in a red corduroy chair—others seemed keen to expand their horizons in 2016. Adrien Brody became an exhibiting painter; the rapper Joey Bada$$ got into acting on Mr. Robot; Claire Danes broke into the art world; and Russell Simmons even opened a yoga studio. Meanwhile, Whoopi Goldberg and Brooke Shields both got into the curating game, while Lucky Blue Smith, Olympia Le-Tan, Trevor Noah, and Andy Cohen all tried their hand at publishing books. (Maggie Gyllenhaal, for her part, spent 120 hours reading one aloud.)
All, though, took the time to answer W's Culture Diet questionnaire — a guide to what they've been reading, watching, and otherwise devouring lately, in between juggling their various careers. As 2016 comes to an end, a look back at what was on the menu, here.
Undisputed Winner: Hamilton When a person as particular as Fran Lebowitz anoints something "the only thing I have ever seen that was better than people said it was," you know it really lives up to the hype. Lebowitz, Gyllenhaal, Safran Foer, Brooke Shields, Ina Garten, Tracee Ellis Ross, and the costume designer Catherine Martin all managed to snag tickets to see Hamilton, even if Safran Foer chose to credit his praise to his offspring. "If my kids had attended the parting of the Red Sea, they wouldn't have been more awed," he said.
An Enlightening, Not Light, Reading List In a year dominated by the rhetoric of Donald Trump and a summer of senseless police killings, it's no surprise that The New Jim Crow: Mass Incarceration of Colorblindness, former civil rights lawyer Michelle Alexander's overview of America's systematically racist and corrupt legal system, has been making the rounds again after its release in 2010. Tracee Ellis Ross, Trevor Noah, and Vic Mensa all have a copy on their nightstand, while Jill Soloway has been keeping another race-related title, Citizen, by the poet and new MacArthur grant winner Claudia Rankine, on hers. And while she's barely cracked Middlemarch, Maggie Gyllenhaal maintained a surprisingly sexy nightstand, stocked with books like Porno Star by Tina Russell. (The designer Bernhard Willhelm, who picked up Kuntalini by Tamara Faith Berger, and Adrien Brody, who's been reading a book on the sex industry by his mom, would no doubt approve.)
Museums: Still Relevant Since the newly constructed, downtown Whitney Museum opened its doors last year, it's already attracted a steady stream of dedicated patrons, including Claire Danes, the director Park-Chan Wook, and the musician-turned-artist Alison Mosshart, who've all recently paid a visit and taken in photography by the likes of Danny Lyon and Collier Schorr. Meanwhile, Joey Bada$$ ventured a bit further uptown for an efficient trip to the Museum of Sex — his review: "I was just there for the boobs" — while Alan Cumming took the opportunity on a trip to London to visit his own likeness at the National Portrait Gallery. Lucky Blue Smith, for his part, stopped at the Vasa Museum in Stockholm with his mom to take in "an amazing old wooden ship."
To Social Media or Not to Social Media? Jill Soloway, Park Chan-Wook, Jeffrey Deitch, and Peter Beard have all professed a penchant for print when it comes to getting their news; Deitch, Fran Lebowitz, Vic Mensa, and Henry Rollins all missed out on Bella Hadid's breakout and Kylie Jenner's belfies by shying from social media. (Lebowitz, who does not have a cell phone or computer, listens to the radio "4,000 times a day" instead.) Others, though, stayed more in tune: Alan Cumming has been following the life of a pig named Esther via Instagram, Andy Cohen has been keeping up with John Mayer through Snapchat, and Thurston Moore has been training his ear to "the vibrations." (The former Sonic Youth guitarist claims to get his news "by drum.")
Everyone Was Obsessed With TV (Except Thurston Moore) According to Moore, TV is "making people numb and filling conversations with inertia," but according to everyone else TV had a great year in 2016, launching smart new shows like Donald Glover's Atlanta, which counts Trevor Noah and Tracee Ellis Ross among its many, many fans. The Game of Thrones hype, too, stayed as strong as ever, causing the likes of Alan Cumming to stress about keeping apace. ("If you haven't got have some knowledge of it, you're kind of like a social outcast, or you're living trapped like Kimmy Schmidt in a cellar," he said.) New series had little trouble finding devoted fan bases, too: the actress Martha Plimpton is just one of many with a Westworld obsession. Though Henry Rollins, the Black Flag frontman who modeled for Calvin Klein, didn't bother with an HBO subscription: he instead spent his late nights on YouTube, watching shows about crime.
The Perils of Politics While Rosario Dawson started off the year cheerfully rooting for Bernie Sanders, the election, of course, soon turned into an affair that kept the likes of Jeffrey Deitch up all night, when America turned toward the candidate that the self-proclaimed "world's greatest voter" Fran Lebowitz insisted "absolutely" didn't stand a chance. And while the results have been, for many, devastating, the ever-political Vic Mensa saw a silver lining. "It's a very good thing that we have an openly racist, sexist, Islamophobe, misogynistic bigot elected as president, because it forces us to look at what America really is at this point in time," he said. "We can't continue to hide behind some ideal of post-racial society when we have an openly racist president." For his part, Trevor Noah is just "glad it's over… So we can start preparing for the next one."
A Little Self Care Goes a Long Way While Jill Soloway and Whoopi Goldberg both make sure to unwind before bed — the former by taking a hot bath, the latter by dipping into her stores of medical marijuana rub — the designer Bernhard Willhelm prefers to use the morning as his time to decompress. "I don't read in the morning," he said. "I fancy a blow job. And a black coffee."
See W's most popular videos: