Jay-Z Critiques the Criminal Justice System, Says "Probation Is a Trap" in a New York Times Op-Ed
The rapper has been a vocal proponent of criminal justice reform.
---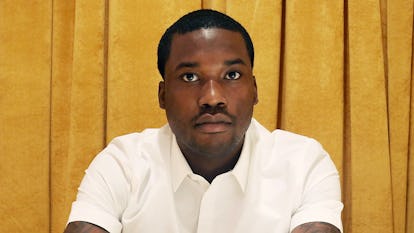 Shareif Ziyadat/Getty Images
In an op-ed for the New York Times published Friday, Jay-Z continues to push for criminal justice reform, calling probation a "trap" that "stalks" black Americans, including rapper Meek Mill.
Early in November, Philadelphia judge Genece Brinkley sentenced Mill to two to four years in prison for violating his probation, ruling against the recommendation of both his probation officer and the assistant district attorney. The decision has been heavily criticized, sparking demonstrations and a trending hashtag, as well as condemnation from high-profile figures like Colin Kaepernick. Jay-Z himself has spoken out repeatedly against Mill's sentence, penning a Facebook post and addressing the issue during a concert.
"I've got to say something about a young man by the name of Meek Mill," he said during his Dallas stop on his 4:44 tour, according to The Fader. "He caught a charge when he was, like, 19. He's 30 now, he's been on probation for 11 years. F*cking 11 years. Judge gave him two to four years because he got arrested for being on a bike and popping a f*cking wheelie."
Now, Jay-Z has expanded on those critiques in an op-ed placing Mill's sentence within a criminal justice system that disproportionately punishes black people. "On the surface, this may look like the story of yet another criminal rapper who didn't smarten up and is back where he started," he writes. "But consider this: Meek was around 19 when he was convicted on charges relating to drug and gun possession, and he served an eight-month sentence. Now he's 30, so he has been on probation for basically his entire adult life. For about a decade, he's been stalked by a system that considers the slightest infraction a justification for locking him back inside."
Jay-Z then cites Mill's sentence as, "one example of how our criminal justice system entraps and harasses hundreds of thousands of black people every day." He continues: "I saw this up close when I was growing up in Brooklyn during the 1970s and 1980s. Instead of a second chance, probation ends up being a land mine, with a random misstep bringing consequences greater than the crime. A person on probation can end up in jail over a technical violation like missing a curfew."
In Mill's case, Jay-Z argues, the judge sent him to prison even though the charges for which he was originally arrested were dropped. "Think about that," he writes. "The charges were either dropped or dismissed, but the judge sent him to prison anyway…It's time we highlight the random ways people trapped in the criminal justice system are punished every day. The system treats them as a danger to society, consistently monitors and follows them for any minor infraction—with the goal of putting them back in prison."
"We could literally shut down jails if we treated people on parole or probation more fairly," continues Jay-Z, before calling for systemic change. "And that's what we need to fight for in Philadelphia and across the country. The racial-justice organization Color of Change is working with people in Philadelphia to pressure the courts there and make that vision a reality. Probation is a trap and we must fight for Meek and everyone else unjustly sent to prison."
On Tuesday, Mill appealed his sentence and filed a motion requesting Judge Brinkley recuse herself from his case.
Watch: The Fashion Industry Stands Up for Immigrants