Jay Z to Produce a Movie and Docuseries About Trayvon Martin
He partnered with the Weinstein Company to acquire the rights to two books about the slain teen.
---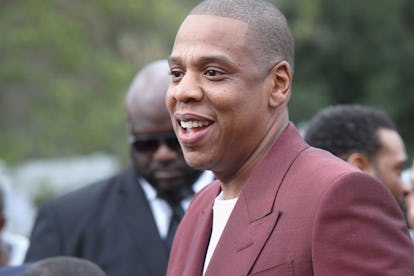 Ari Perilstein
Jay Z is venturing into Hollywood in order to tell the story of Trayvon Martin, a black teenager shot and killed by neighborhood watch volunteer George Zimmerman in 2012, which, in part, spurred the creation of the #BlackLivesMatter movement.
According to The Hollywood Reporter, the rapper has teamed up with the Weinstein Co. to secure the rights to two books about Martin—Suspicion Nation: The Inside Story of the Trayvon Martin Injustice and Why We Continue to Repeat It and Rest in Power: The Enduring Life of Trayvon Martin—which the two parties intend to remake into a feature film and a docuseries.
Martin, a 17-year-old from Miami Gardens, Florida, was walking unarmed through a Sanford, Florida neighborhood while visiting his father, when he was spotted and eventually run down by Zimmerman, who described him as a suspicious character to a 911 operator. His killing and the eventual acquittal of Zimmerman incited national outrage.
Suspicion Nation, which was released in 2014 and written by civil rights attorney and TV host Lisa Bloom, dives into Zimmerman's trial. Rest in Power, written by Martin's mother, Sybrina Fulton, and father, Tracy Martin, and released in January, is an intimate look at Trayvon Martin's life and his parents' experience after his death.
Jay Z has previously collaborated with the Weinsteins to bring to the small screen a story that similarly addresses the topic of criminal justice. Together, they produced Time: The Kalief Browder Story, a six-part docuseries about Kalief Browder, a black teenager who was held in New York's Rikers Island jail for three years without trial.
Related: Maxwell Osborne: Why I Stand with Black Lives Matter
Watch W's Most Popular Videos: