Kim Kardashian Tweeted Her Thanks to President Donald Trump Following Their White House Meeting
The duo talked about prison reform.
---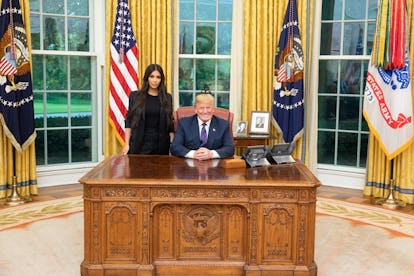 RealDonaldTrump/Twitter
On Wednesday, Kim Kardashian ditched her reality show camera crews, donned a modest, all-black suit, and showed up at the White House, ready to take her arranged meeting with President Donald Trump about prison reform, and more specifically, to discuss the legal intricacies behind the case of the 62-year-old Alice Marie Johnson, who has been in jail for over 20 years serving a life sentence with no chance at parole, merely for a first-time, nonviolent drug offense. Kardashian learned about the case earlier this year, and has been keeping her extensive follower base apprised of details of the case ever since.
Kardashian had been quiet since the early Wednesday meeting, which caused her many followers to start questioning the exact nature of the meeting and what the potential outcomes for all parties would be. But now, she speaks! And, all things considered, it seems like she had a lovely time in the Oval Office and made progress with Johnson's case. "I would like to thank President Trump for his time this afternoon. It is our hope that the President will grant clemency to Ms. Alice Marie Johnson who is serving a life sentence for a first-time, non-violent drug offense," she tweeted on Wednesday evening, reportedly after she dined with Jared Kushner and Ivanka Trump at their D.C. home. "We are optimistic about Ms. Johnson's future and hopeful that she —and so many like her—will get a second chance at life."
Trump also commented on his meeting with the high priestess of the E! network, even sharing a photo of the duo in the Oval Office. "Great meeting with @KimKardashian today," he tweeted, "talked about prison reform and sentencing."
As to whether Trump will actually grant Johnson clemency, only time—or refreshing his Twitter account—will tell. But as to why Kardashian became interested in Johnson's story to begin with, well, to her it boiled down to how one ill-advised decision in someone's youth shouldn't always dictate the rest of their life. "When I see a story like hers and I go back to maybe decisions we've all made that probably—maybe not at that caliber—but if you think about a decision that you've made in your life, and you get life without the possibility of parole for your first time, nonviolent offense, there's just something so wrong with that," she explained earlier this year.
Related: Can Kim Kardashian Navigate the Backlash of a Donald Trump Meeting?