Kim Kardashian Will Meet With Donald Trump to Discuss Prison Reform
She's headed to the White House.
---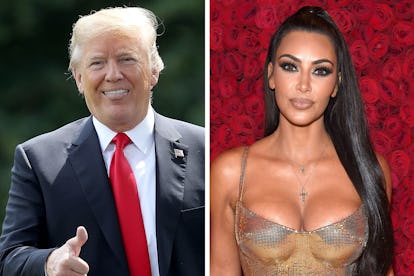 Composite. Getty Images
Keeping up with the Kardashians has now expanded to the Washington, D.C., metropolitan area. Per intel from Vanity Fair, Kim Kardashian is set to have a meeting with President Donald Trump at the White House on Wednesday after months of private talks and preparations. Kim, of course, will be leaving the E! camera crew and her squad of siblings behind in favor of chatting with Trump about an issue that's become of interest to her: prison reform.
So how exactly did we get here? The President's son-in-law and erstwhile advisor Jared Kushner's father pled guilty to tax evasion, witness tampering, and making illegal campaign donations in 2005, and was sentenced to two years in prison as a result. The younger Kushner meanwhile has made the possibility of some prison reform a priority of his in the White House. As Vanity Fair reports, Kardashian, sensing an opening, has been in contact with Kushner about the issue for months. Kardashian's particular interest has been her pursuit of securing a pardon for 62-year-old Alice Marie Johnson, a first-time drug offender who's been behind bars without a chance of parole since 1993. Kardashian previously explained, "When I see a story like hers and I go back to maybe decisions we've all made that probably — maybe not at that caliber — but if you think about a decision that you've made in your life, and you get life without the possibility of parole for your first time, nonviolent offense, there's just something so wrong with that."
Vanity Fair writes that Kim came across Johnson's story earlier this year, and she reached out to Ivanka Trump in an attempt to set up a meeting at the White House. Ivanka Trump reportedly passed her along to Kushner, and now the duo will meet with the president in the Oval Office "along with White House counsel," during which time Kardashian will reportedly present a legal argument to the president to pardon Johnson (which sound unlikely, but, remember, Kardashian is the daughter of a late superstar lawyer). Afterward, she reportedly also plans on dining with the Kushners at their D.C. home.
On Wednesday morning Kardashian tweeted out a message in honor of Alice's birthday, though she made no specific reference to her meeting with Trump. "Happy Birthday Alice Marie Johnson. Today is for you ??✨" she wrote in the tweet.
Related: Allow Kanye West to Clarify That He Doesn't Agree With "Everything" Trump Does, He Just "Loves" Him Like a "Brother"
"Women's Rights Are Human Rights": 62 Fashion Insiders Speak Out in a Powerful Video for International Women's Day: