Gwyneth Paltrow and Brad Falchuk Are Married!
Here's everything we know.
---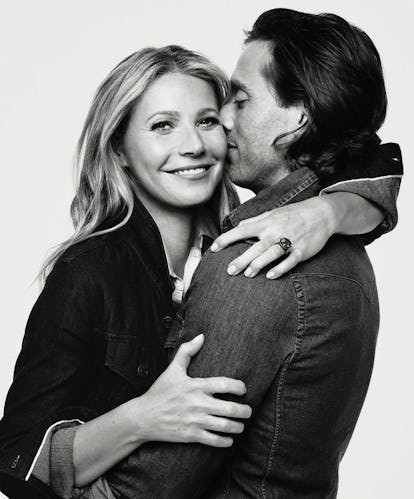 Goop Magazine
Gwyneth Paltrow and Brad Falchuk are married!
The Oscar-winning actress and TV producer, who met when Paltrow guest-starred on Falchuk's hit series Glee in 2010, officially tied the knot in an intimate Hamptons ceremony on Saturday. So far, no pictures from the event have been revealed, but it's safe to assume the wedding was beautiful.
Here's everything we know so far.
Eight months after announcing their engagement on the cover of Goop Magazine's Love and Sex issue, E! Online reports that the couple wed "in the yard of a private home in the Hamptons in front of their family and friends, including celebs such as the bride's Iron Man co-star Robert Downey Jr. and his wife Susan Downey, Cameron Diaz and husband Benji Madden, Steven Spielberg—who cast the bride in her first film, Hook, and Jerry Seinfeld and wife Jessica Seinfeld." The Seinfelds also threw the couple a rehearsal dinner on Friday night.
The bride and groom are both in their 40s with children from previous marriages. "Personally, at midlife, I have tried to accept how complex romantic love can be," Paltrow said previously to People. "I have decided to give it a go again, not only because I believe I have found the man I was meant to be with, but because I have accepted the soul-stretching, pattern-breaking opportunities that (terrifyingly) are made possible by intimacy." How rational, mature, and sane.
Related: Why Gwyneth Paltrow Kept Chris Martin's Last Name After Their Divorce
All of the Celebrities Who Have Gotten Married In 2018 (So Far)