Life Ball 2018: 48 Hours in Vienna with Paris Jackson, Caitlyn Jenner, and a Plane Full of Club Kids
Life Ball 2018 started with a debaucherous party plane and ended with Kim Petras.
---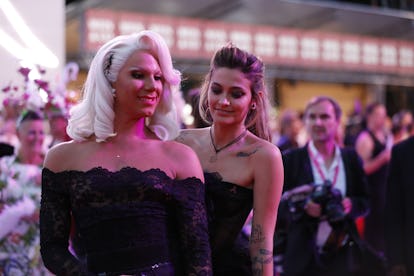 Daniel Gossmann
For a few hours last Thursday, the best party on Earth was happening 36,000 feet in the air, in the back cabin of an Austrian Airlines 767 jet airliner.
The entire plane had been chartered to shuttle the American delegation to the 25th anniversary of the Life Ball in Vienna, Europe's largest HIV/AIDS charity-event-cum-bacchanal. Guests boarded the plane in New York to find 74-year-old Patti LaBelle sitting front and center in first class. The flight attendants, clad in striking monochromatic scarlet, did not bother with conventions such as pointing out the exits; instead, Kelly Osbourne took to the intercom to remind us not to "unkeister" anything until we were at a comfortable cruising altitude. After three separate drink services in the first few hours, the first-class cabin emptied out into coach, and the back service cabin, where the open bar continued, became the hot spot on this 767. There was Olympic silver medalist Gus Kenworthy hobnobbing with RuPaul's Drag Race alum and Marc Jacobs muse Milk. (Or at least we're pretty sure it was. Kenworthy was definitely on board, but so, confusingly, were a handful of go-go boys who looked almost exactly like him.) YouTube superstar Gigi Gorgeous waltzed down the aisle with fiancé Nat Getty (yes, of the Gettys). Kimberly Davis, the lead singer of the legendary disco band Chic, gave an impromptu performance somewhere aboard. Someone pulled out a saxophone. Viral pop star Kim Petras was present with her signature side bun intact. New York party promoter Suzanne Bartsch came back to check on the cavalcade of club kids she had brought along. Soap opera actress Patrika Darbo (who millennials may know best as the plucky aunt on early seasons of Step by Step) played den mom and popped up randomly to remind people how cute they were.
At one point during the flight I looked up to find Caitlyn Jenner leaning over my seat to have a quick chat with someone in the opposite aisle. Her 21-year-old travel companion Sophia Hutchins was by her side. This was the work commitment tabloids cited as the reason she couldn't make her son Brody's destination wedding in Bali.
Even many of the guests officially seated in the back of economy with the various makeup artists, hair stylists, PR people, volunteers, and journalists were notorious in their own right. Out of the corner of one eye were New York party personalities like Kyle Farmery; a few aisles straight ahead were members of San Francisco's Sisters of Perpetual Indulgence (a group of activist drag queens who dress like glitter nuns), busy putting on their makeup; and waiting for the bathroom was sardonic Los Angeles drag queen Jackie Beat.
The whole thing was a Who Weekly podcast, a season's worth of Drag Race guest judges, and a discarded Saturday Night Live Stefon sketch smashed together into the few thousand square feet of the plane's interior. We just assume that Adam Rippon, the boys of Queer Eye, and Amanda Lepore were either otherwise busy this weekend or just wanted to get some sleep. Certainly no one on board got any, even though the plane was scheduled to arrive in Austria in the bright, wee hours of the morning there. Well, almost no one. One guest had R&R issues so, um, urgent that the back cabin had to be cleared out for her, but by that point many had to get back to their seats and start preparing their arrival looks anyway. There would be paparazzi waiting for them both during our brief stop in Salzburg and upon the final arrival in Vienna.
Of course, this was just an aperitif to the crazy 48 hours to come in Vienna. The flight attendants' generally laissez-faire attitude about all the American debauchery going on around them belied something maybe not readily apparent about the Viennese: They love to party. During the day, the population is unassuming and almost aloof, though generally polite. The clean streets, surrounding mountains, and a general aversion to jaywalking (even though there's very little traffic, at least by American standards) led me to text a friend that it was basically the Denver of Europe. That impression, though, was quickly dispelled—Vienna has a decided taste for all night raves. They call them "balls," and, yes, they take place in the town's historic palaces and government buildings rather than warehouses in seedy out-of-the-way districts. Guests are required to wear black tie, and, yes, at many of them (though not the Life Ball) they do actually waltz. But make no mistake, by modern standards they're basically analog raves. They go on, officially, until 5 a.m., and there's usually afterparties raging into the next day. There's as many as 450 of them a year in the city, and they're rather egalitarian. Even the middle class attends a few a year. Life Ball takes that basic format, mixes it up with some stage show camp that recalls the Eurovision song competition and a dash of New York–style queer nightlife, and turns it all into one of the city's signature pop culture events.
Gus Kenworthy arriving at the airport in Vienna, Austria, for the 2018 Life Ball on June 1st, 2018.

Andrea Pobst
Caitlyn Jenner arriving at the airport in Vienna, Austria, for the 2018 Life Ball on June 1st, 2018.

Juergen Hammerschmid
Adrien Brody, Charlize Theron, and Gilles Marini at the Life Ball brunch in Vienna, Austria, on June 1st, 2018. Photo courtesy of Life Ball.

Foto: Mike Vogl – VOGL-PERSPEKTIVE.AT – 1.6.2018
Paris Jackson on the red carpet at the 2018 Life Ball in Vienna, Austria, on June 2nd, 2018. Photo courtesy of Life Ball.

Stephan Brückler
Kim Petras on the red carpet at the 2018 Life Ball Event in Vienna, Austria, on June 2nd, 2018. Photo courtesy of Life Ball.

Raimund Appel
Gus Kenworthy and Matt Wilkas on the red carpet at the 2018 Life Ball in Vienna, Austria, on June 2nd, 2018. Photo courtesy of Life Ball.

Stephan Brückler
On the red carpet at the 2018 Life Ball in Vienna, Austria, on June 2nd, 2018. Photo courtesy of Life Ball.

Harald Klemm
A scene from the Life + Celebration Concert, part of the 2018 Life Ball in Vienna, Austria, on June 2nd, 2018. Photo courtesy of Life Ball.

Juergen Hammerschmid
A limited number of Life Ball tickets are allotted to regular workday Viennese on the condition that they dress to the nines in fantastical costumes. They're allowed to walk the event's expansive red carpet alongside the VIPs, which made the whole thing less like a step-and-repeat setup and more a not very organized parade. A nimble circus performer went down the carpet on her hands. Bartsch jammed with a gray-haired drag queen playing live electric guitar via a portable speaker. Continental celebrities of undetermined fame hammed it up for the local press. Paris Jackson, one of the few American notables not on the plane, quickly posed for photos amidst it all. There was an entire beefcake calendar of bare ass to be found. At one point, there may have been more people on the actual red carpet than there were on the sidelines.
It all led up to the front of the Wiener Rathaus, Vienna's baroque, towering city hall. An elaborate stage had been constructed to hold the televised extravaganza that proved to be something between a Broadway-style musical and one of MTV's awards shows. This year's theme was a celebration of The Sound of Music (more on the surprising particulars of that later) with Conchita Wurst, the bearded drag queen who brought home the Eurovision championship to Austria in 2014, playing Maria von Trapp. Her powerful and crystal-clear voice was a reminder that she's still a talent worthy of more than just 15 minutes of novelty fame (thirsty Broadway producers looking for a stunt casting that may actually pay off, consider this performance her audition). In this modern retelling, her Maria's marriage to Captain Von Trapp was almost called off because he wasn't comfortable with the wedding guests she invited—namely, the "men in dresses." It was all in German, and the exact plot line escapes me now. Though Patti LaBelle stopped by to sing "Do-Re-Mi" before launching into a version of her own "Lady Marmalade." She seemed tickled by a man in a gold praying mantis outfit on stage, belted out most of the finale notes, and then, perhaps as a nod to her fellow exhausted plane mates, walked over to hand the mic to a backup singer to finish it off for her. Then local pop star Victoria Swarovski (that's not a stage name, she's an heiress to the actual crystal fortune) premiered a new song she had written for the event with the help of other singers. Paris Jackson, continuing in her godmother Elizabeth Taylor's footsteps as an AIDS activist, presented an award to Joyce Jere, the head of the Global AIDS Interfaith Alliance in Malawi, on behalf of Taylor's foundation.
The beat of Gwen Stefani's "Lonely Goatherd"–sampling "Wind It Up" started up, and for a second, the audience thought they were in for a total surprise, but alas, Stefani had just recorded a special video message. Ditto for both President Bill Clinton and Charlize Theron. Oscar winner Adrian Brody was on hand for the event, however. He rode up on to the stage on a motorcycle with a crew that included various actors from Teen Wolf and Game of Thrones, and Gilles Marini from Sex and the City 2 (they had taken part in a motorcycle ride that started in Switzerland and ended here on behalf of Amfar). The actual Georg Von Trapp's gay great-grandson (of course he has one) was on hand to address the group. It was a lot, but we assume that all of this helped our fictional Georg Von Trapp to accept that anyone of any gender in any type of clothing was fine. He ended up marrying Conchita's Maria.
Oh, as to the choice of The Sound of Music as theme. Despite it being perhaps the most famous movie of all time set in Austria, the actual country has a bit of a weird relationship to it. Life Ball founder Gery Keszler admitted he hadn't even seen it until about three years ago, and revealed that the fact the movie centers on the country's Nazi history during World War II proved to be a bit of a tough selling point for many in the country. Germany may have famously owned up to its own dark history and attempted to make amends, but Austria has had a more complicated relationship with that past. For many years, the country's right wing pushed an ahistorical theory that Austria wasn't only blameless, but was in fact the "first victim." Amidst all the message of inclusivity and HIV/AIDS advocacy, our fictional Von Trapp also gave an impassioned speech that reminded everyone watching at home that the evils of Nazism weren't dropped down from above, but rather grew from within the country. It got a big cheer from those in Vienna, the center of the country's left-leaning politics, and his allusions to having seen how quickly a country can devolve into fascism certainly gave the Americans on hand chills.
Another unsettling reality for Americans was how much of the money being raised was going to America. While some of the donations were being used to remind Austrians to get tested for HIV, the country's single-payer health care system meant that they would have care if they needed it. Meanwhile, ambassadors from American groups like Broadway Cares were there to say thanks for grants that would help just to feed HIV/AIDS patients in our country.
This is all to say there was a lot going on that night, and the party itself hadn't even started. A bit after midnight, we were invited inside the actual City Hall, where eight or so different rooms and a central plaza were dedicated as individual party spots. I was with a group of New Yorkers who decided to make it our mission to find the Bartsch-hosted room where Petras and Betty Who would be playing that night, but we kept getting waylaid for one reason or another: food; a brief run-in with LaBelle who was game to accept compliments and selfie requests;, various security guards who had no idea what we were talking about; and, perhaps most of all, that our passes only entitled to us free drinks at one specific bar. Various people got lost or went home until I was aimlessly wandering around various rooms in this government building, stumbling upon acrobatic burlesque acts, drag queens, and EDM ragers alone.
Eventually I spotted other familiar faces from the plane and finally found the stage. About only 35 others amidst the thousands there had located the by then near-mythical stage, so I was treated to a vary intimate set of Betty Who running through her own hits as well as a cover of deep '90s fave "I Love You Always Forever." After Who finished, it was announced Petras would come on in five minutes, except she decided she was ready right then and immediately launched into "I Don't Want It All." She ran through her hits, and at one point Gorgeous and Barstsch danced with her on stage in a power summit of niche gay icons.
After one more trip to the only open bar (during which I waited next to Belgian fashion designer Olivier Theyskens, who was, all things considered, actually pretty chill with the fact they were out of vodka), it was time to go home. It was almost 5 a.m. The American delegation was instructed to meet in their hotel lobbies in just two and half hours to board buses to the airport. There was no bacchanal at 36,000 feet this time. Just about everyone on board slept.