Queen of the Night
Susanne Bartsch's style celebrated in a new exhibition at FIT.
---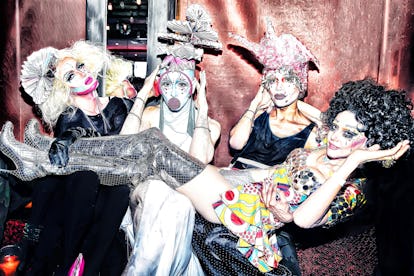 When the nightlife maven and fashion plate Susanne Bartsch married David Barton, in 1995, the bride wore a nude kid leather jumpsuit designed by Thierry Mugler, a structured veil that resembled an egg worthy of Lady Gaga, and a tulle bouquet perched atop her head. It was a fittingly outré outfit for someone known for her dazzling alterna-high-fashion-meets-Halloween-meets-drag looks—and whose bridal party included RuPaul as best man. The wedding ensemble is among the 80 designs featured in "Fashion Underground: The World of Susanne Bartsch," running September 18 through December 5 at the Museum at FIT, in New York. Curated by Bartsch and director and chief curator Valerie Steele, the show chronicles Bartsch's 30-year career as both a walking sandwich board for subversive talent and a trailblazing connector. It begins with the British street fashions from the early 1980s (Body Map, Vivienne Westwood, Stephen Jones) that Bartsch introduced Stateside at her two surreal boutiques in SoHo and moves on to the wild fantasy costumes she wore to the many club happenings she has hosted ever since. (Also gettingits due is her old apartment in the storied Chelsea Hotel, which was ground zero for her various activities.) What emerges is a snapshot of a true original. As Bartsch says, "Fashion these days is all about balance sheets, but it's nice to remember when people approached dressing up like it was an art.
Photos: Queen of the Night
Susanne Bartsch, 1990s. Photo by Andrea Barbiroli.
Susanne Bartsch, 2015. Photo by Robin Souma.
Susanne Bartsch, reclining in New York, 2014. Photo by Robin Souma.