Why Gwyneth Paltrow Kept Chris Martin's Last Name After Their Divorce
They haven't been married for years, but they're still the Martins.
---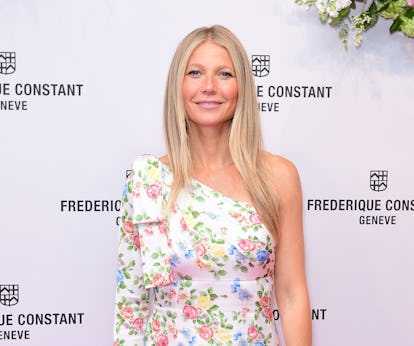 Ian West/PA Wire
Despite famously consciously uncoupling in 2014 (their divorce was legally finalized sometime later), Gwyneth Paltrow and Chris Martin remain close. In fact, Ms. Paltrow is technically, legally, still Ms. Martin. The Daily Mail reports that the Academy Award winner and Goop founder's "legal name is still Gwyneth Paltrow Martin because that's how she's known at the school of their two kids, Apple, 14, and Moses, 12."
"In my case, because I am known out in the world as Gwyneth Paltrow, I had always kept that identity in a way. But in things related to school I am Martin. Other children call me Mrs. Martin, which is kind of hilarious," Paltrow (sorry, Paltrow Martin) explained. It's hard to imagine the parents at school do the same. "Ah yes, Moses' mom. I don't immediately recognize her as anything else!"
Paltrow and Martin have always maintained a healthy relationship for the sake of their kids. In 2016, Paltrow told Glamour, "if you have children together, number one is a dedication to what's best for the kids. We put a lot of thought into how to do it so that the damage would be minimized." She added that this went beyond pick-ups and drop-offs; they still did activities as a family, saying, "We spend a lot of time together. He's been away…Last night he got in at midnight and slept here so he could surprise the kids in the morning, we could all have breakfast, and he could take them to school. So…we're not living together, but he's more than welcome to be with us whenever he wants. And vice versa: I sleep in his house in Malibu a lot with the kids. We'll have a weekend all together; holidays, we're together. We're still very much a family, even though we don't have a romantic relationship. He's like my brother."
Her "brother" was also super happy for her when Paltrow became engaged to high-powered TV producer Brad Falchuk. So, will she be Gwyneth Paltrow Martin Falchuck, eventually? The star didn't say. We'll just have to keep an eye on her monogrammed items.
Related: Everyone From Gwyneth Paltrow to Jerry Seinfield Is Ending the Summer In the Hamptons