Paris Hilton DJ'd Her Brother Barron Hilton's Wedding to Tessa Gräfin von Walderdorff
Paris Hilton was the DJ at her brother Barron Hilton's wedding to socialite Tessa Gräfin von Walderdorff in St. Barts.
---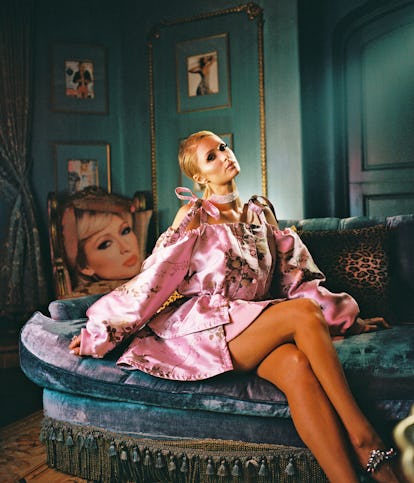 Mayan Toledano
Holding down the fort at a DJ residency in Ibiza for half a decade, in between managing 19 product lines (and seemingly endless new fragrances), sounds like no easy feat, but Paris Hilton still isn't pulling the plug on her turntables any time soon.
On June 2, Barron Hilton, younger brother of Paris Hilton and Nicky Rothschild, married socialite Tessa Gräfin von Walderdorff in St. Barts, and no Hilton party would be complete without the family's resident DJ. After giving a speech congratulating the newlyweds, it seems that Paris spun turntables for the family and friends of the bride and groom all night long during the reception, with her trusty fiancé, Chris Zylka, by her side.
Barron, 28, and his bride were captured on camera by sisters Paris and Nicky, who shared snaps of the ceremony on their Instagram feeds, as did plenty of other friends and guests, including parents of the groom Kathy and Rick Hilton. Barron's aunt, Kim Richards, was in attendance, and shared her excitement for her nephew on Instagram. However, her sister and fellow Real Housewives of Beverly Hills castmate Kyle Richards was noticeably absent from the festivities on the island due to production for her new semiautobiographical television series, American Woman.
Hilton and von Walderdorff announced their engagement in October 2017, just a couple months before Paris announced her engagement to actor and artist Chris Zylka on Instagram. While details of her ceremony are still being ironed out (the date, the dress, and the location have all yet to be confirmed), the most recent Hilton wedding extravaganza does bring up one major unanswered question—will Paris bring her turntables to play DJ at her own wedding to Zylka?
Related: Paris Hilton Is Nostalgic for the Aughts When Celebrities 'Actually Had Personal Style'