Paris Hilton Is Nostalgic for the Aughts When Celebrities 'Actually Had Personal Style'
"Now everyone kinda looks the same! ?"
---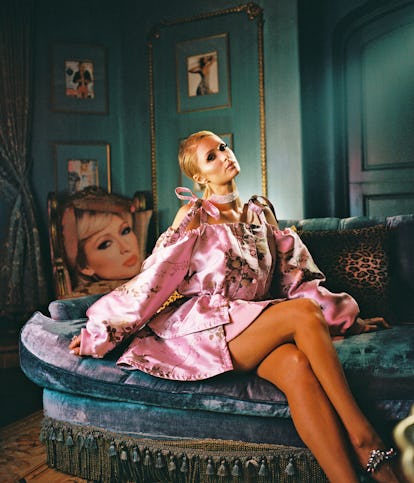 Mayan Toledano
Terry cloth sets, rhinestones galore, capri cargo pants—on paper the aughts may sound like a fashion disaster. But, at least they were interesting, as Paris Hilton is taking pains to point out. The heiress, reality TV star, and DJ is nostalgic for the turn of the millennium, but not just because it was during her cultural reign. Hilton believes that celebrities dressed better in those days because, fashion fail or not, they actually wore their personalities.
"The early 2000s was such a fun & iconic era for fashion," Hilton tweeted today. "People didn't have stylists & actually had personal style. Now everyone kinda looks the same! ?" She has a point there. The red carpet, especially, has become an experiment in continuous déjà vu as many parade down it in the same colors of the season and pretty looks. As Kristen Stewart, a noted red carpet rebel, remarked a few years ago: "So many people go for pretty—and that's pretty boring."
Hilton has been on a nostalgic kick this week, previously telling The Los Angeles Times that "I invented getting paid to party" in reaction to all of the celebrities who attended this year's Cannes solely for the parties.
Hilton has had a lot of firsts, if you ask her, including allegedly being one of the first in the pre-digital age to arrive at the selfie. "I think I have a selfie from when I was a little kid, like on a disposable camera," she told W last year. In the same conversation, Hilton also talked about creating the idea of the modern celebrity — someone who's famous for being famous — as we know it these days.
"We started a whole new genre of celebrity that no one had ever seen before," she said. "Nowadays, I feel like it's so easy becoming famous. Anybody with a phone can do it."
Part of her success as becoming a household name was landing her reality series The Simple Life, which she sees as being unlike any reality show that's followed it. "Nowadays, everything is just so scripted and fake," she said. "Everything is planned out. There's nothing real, really. I'm glad that I did it in the beginning when it was organic and fun."
As for her style legacy, Hilton is pleased that the aughts have been in revival mode. "To now see things on the runway," she said, "and to see girls wearing things that I used to wear is really cool because nobody really dressed like me back in the day."