Gwyneth Paltrow's Husband-To-Be Brad Falchuk Is the Most Supportive Fiancé on Instagram
The American Crime Story producer and future husband to Gwyneth Paltrow is extremely supportive of his fiancée on Instagram.
---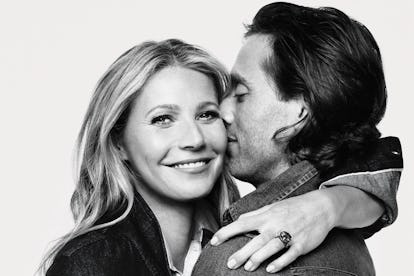 Goop
You may know Brad Falchuk as the producing partner of Ryan Murphy, recognized for his work on American Horror Story, Glee and American Crime Story, but when he appeared on the cover of Goop magazine's second issue with Gwyneth Paltrow, it became clear that Falchuk is now officially Paltrow's fiancé. Photographer Steven Pan captured the couple in multiple embraces for the photo shoot about "sex and love."
Long after "consciously uncoupling" from Chris Martin and just before officially confirming the news of their upcoming nuptials with the release of the second issue of Goop magazine, it was reported that the couple had been keeping their engagement between themselves for nearly a full year. Some of us may have had no idea Paltrow and Falchuk were even seriously dating in the first place, but that just means those of us who were out of the loop had somehow overlooked a key component to every modern relationship—that is, when the relationship became Instagram official.
And when did the Oscar winning actress and Emmy nominated producer start dating? Well, according to this snap taken in the early days of his tenure on Instagram (September 2015), they've been together for almost three years.
Reading the captions on Falchuk's Instagram photos, it's evident that the guy just loves to broadcast his love for Paltrow. In a recent candid iPhone photograph of his fiancée from September 2017 he wrote, "This is the most beautiful woman of all time and today is her birthday. We are all so lucky that she came into the world (but no one is luckier than me). Happy Birthday, Love. PS – this is pretty much the most #Gwyneth pic I could find – it has pizza, red wine, her phone and that f–king perfect smile."
[#instagram:https://www.instagram.com/p/BZjf6NBBQHs/?hl=en&taken-by=bradfalchuk] [#instagram:https://www.instagram.com/p/BHus-nAD3jK/?hl=en&taken-by=bradfalchuk] [#instagram:https://www.instagram.com/p/BS8_Heej9YM/?hl=en&taken-by=bradfalchuk] [#instagram:https://www.instagram.com/p/BTzP0NhjcRB/?hl=en&taken-by=bradfalchuk] [#instagram:https://www.instagram.com/p/BWLIUUqFB4U/?hl=en&taken-by=bradfalchuk]
Occasionally, when he's not posting photos of Gwyneth Paltrow (seriously, a good chunk of his feed is photos of his fiancée), solo selfies are the Instagram of choice for Falchuk.
Also, Falchuk's social media presence reveals that aside from being Gwyneth Paltrow's successful future husband, he is not as "out there" as you would think. For starters, he, like all American dads, loves Bruce Springsteen and would like to get his daughter on board with the Springsteen fandom.
[#instagram:https://www.instagram.com/p/BDFkHVsANG-/?hl=en&taken-by=bradfalchuk]
And like all American dads with access to social media that was invented well after their time, making semi-funny dad jokes that riff off millennial slang (he's jesting about the terms "bae" and "bay horses" right?).
[#instagram:https://www.instagram.com/p/9gqiS5gNEn/?hl=en&taken-by=bradfalchuk]
Falchuk is also fairly outdoorsy—the man loves a good hike. On a trip with his two children to Montana, he captured a fishing outing with a caption that highlights a zen approach to existing in nature. "We didn't catch anything but definitely experienced how peaceful and satisfying failure can be," he wrote.
Behind the scenes photos from the sets of all your favorite Murphy-Falchuk collaborations—whether that's Scream Queens, American Horror Story or 9-1-1, the new drama series about emergency operators—is also present on the producer's social media accounts.
The night Lady Gaga won her Golden Globe for Best Actress in a Mini-Series or TV Movie after her chilling performance in American Horror Story: Hotel, Falchuk commemorated the moment on his Instagram.
Above all else, Falchuk can at least be found supporting Goop, like the committed future husband he is.
Related: Goop Magazine's Second Edition Is All About "Sex & Love"