Gwyneth Paltrow Is Reportedly Engaged to Brad Falchuk, So We Can Officially Retire the Term, "Conscious Uncoupling"
After three years of dating, the actress is said to be engaged to her producer boyfriend.
---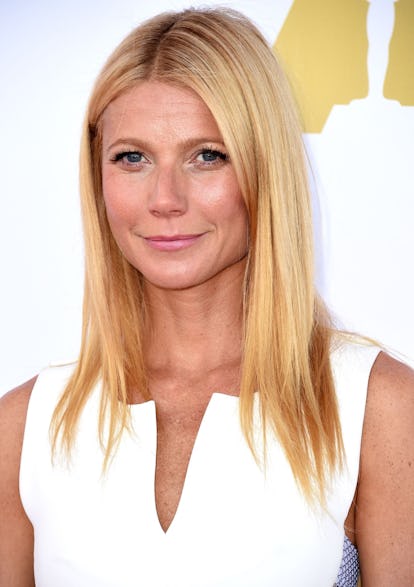 Photo by Getty.
Over the years, Gwyneth Paltrow has introduced many words into the pop culture lexicon: Goop, vaginal steaming—the list goes on. But perhaps no phrase has made more of an impact than conscious uncoupling, the term Paltrow used in her official statement announcing her divorce from then husband Chris Martin.
"We have always conducted our relationship privately, and we hope that as we consciously uncouple and co-parent, we will be able to continue in the same manner," Paltrow said in the March 2014 statement to confirm the end of her ten year relationship. Now it seems like Paltrow is consciously recoupling, just over three years later, as US Weekly reports that she is engaged to longtime boyfriend Brad Falchuk.
Paltrow first met Falchuk, one of the co-creators of Glee, on the set of the hit show in 2014, when she made a guest star appearance. The two made their red carpet debut in 2015 at the premiere of Scream Queens, and have since made frequent appearances in each other's Instagram accounts, including one very clever couples costume this Halloween.
Details on the engagement are scarce at this point, with sources telling US Weekly that Paltrow plans to announce the news on her own website. One concrete piece of information we can glean from the news, however? It is officially time to retire the term "conscious uncoupling." After three years, it has had a great run, but clearly Paltrow has moved on, and it is probably time for everyone to let the phrase graciously retire. Even Paltrow knows it was a bit of an eye-roll. "People are coming around," she told The Edit earlier this year. "I know it's a dorky term, but it's very worthwhile. I'm always the person who gets shit at first, but then later people say, 'Hey, maybe that's a good idea.' I don't mind."
And as for Chris Martin? He still may or may not be dating 28-year-old Dakota Johnson, who was spotted at a Colplay concert in Argentina last week, so chances are he's doing just fine.
Related: A Guide To All of Gwyneth Paltrow's Unique Approaches To Health and Wellness
Brad Pitt's Controversial Dating History Is A Lesson In Love