So Is Dakota Johnson Dating Chris Martin or Jon Hamm?
The Fifty Shades Freed star has been romantically linked to Jon Hamm and Chris Martin in the space of two weeks.
---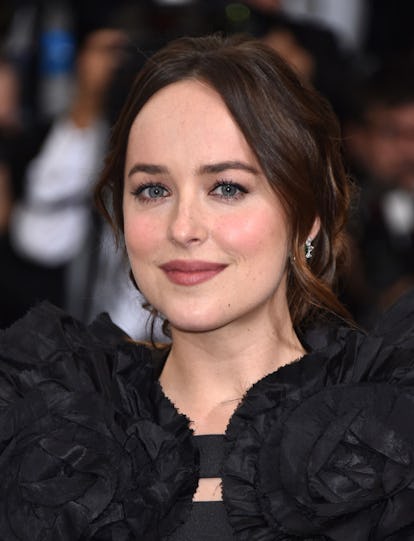 John Shearer/Getty Images
It's been quite a week for the Hollywood romance rumor mill—and it's only Wednesday! This afternoon, the focus has shifted from untangling the "Instagram official" relationship announcements from Scott Disick and Sofia Richie to the relationship status of Hollywood royalty descendent, Dakota Johnson. The Fifty Shades Freed star was recently spotted on a sushi date in Los Angeles with Coldplay's lead singer, Chris Martin, just a week after reports linked her to the recently single Jon Hamm.
Johnson revealed in a January interview with Vogue, "I think I'm a little bit heartbroken all the time, even when I'm in a happy relationship. I don't do casual very well, and my feelings, even the good ones, get so intense that they hurt." So, what is the truth? Is Dakota Johnson dating Jon Hamm or Chris Martin? Is she taking the advice from her How To Be Single character and playing the field, or is she looking for something serious with one of the two aforementioned men? Will there be a Don Draper/Coldplay duo cameo in the next Fifty Shades film? The people need answers!
Considering the fact that Johnson was previously in an on-again-off-again relationship with The Drowners' lead singer Matthew Hitt for about two years, the odds favor the British musician among the duo of Martin and Hamm (who, to our knowledge, has yet to front a UK-based band, but we'd welcome any opportunity to call Hamm a multihyphenate). However, she was also recently spotted on her own in New York City, toting a copy of Infinite Jest, a book that, no matter how fast you read, will probably take longer to finish than any average Hollywood relationship might last.
Johnson was the star of an entire rom-com dedicated to extolling the virtues of what it's like to be a single young woman about town, so it's likely she's just out here, dating around and enjoying her young adult life like the truly modern women she plays on screen.
Related: The Fifty Shades Freed Trailer Involves Guns, Car Chases, a Wedding and Whips
See W's most popular videos: