Where Is Angela Bassett In the Promos For This New Angela Bassett TV Show?
The star of the show is not the star of these trailers.
---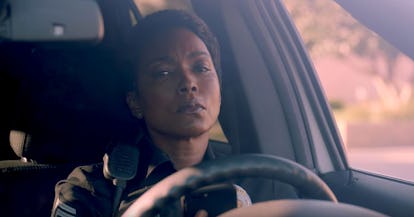 When we heard that Ryan Murphy was creating a new show starring Angela Bassett for Fox we expected to get, you know, a Ryan Murphy-created show starring Angela Bassett for Fox. The women is a Hollywood veteran, Oscar nominee, and Yale graduate who certainly deserves her own show. Especially after the work she's done recently on Murphy's American Horror Story franchise.
Yet, when Fox recently debuted two teaser trailers for the show, 9-1-1, there wass barely any Angela Bassett to be seen! In the one minute and 30 seconds total from the two trailers, we literally only get a precious few seconds of Angela Bassett screen time, and she's completely silent in one of the trailers. She just gets a single line in the other. A powerful and exquisitely delivered line, but a single line none the less. Likewise, the wonderful Connie Britton also gets scant screen time. Instead, it's Six Feet Under vet Peter Krause who gets the bulk of the attention here. Which, don't get us wrong, Peter Krause is wonderful, but Angela Bassett he is not.
Here's the first minute-long, nearly Bassett-less trailer that debuted during the World Series:
That snake literally gets more screen time than Bassett. Did the snake ever win the Golden Globe for its unflinching portrayal of Tina Turner in 1993's critical and commercial hit What's Love Got To Do With It? No. No, it did not.
Was the snake ever passed over by Hollywood for the part of Storm in the original X-Men series, a role everyone on earth knows it rightfully deserved? Again, no.
All we're saying is perhaps Bassett should get at least as much screen time as the snake.
At least there's another 30-second teaser that gives just a little bit more Bassett. It's just enough Bassett to make us upset that there isn't more Bassett in the first place.
We were lead to believe that this was totally Bassett's show, at least by the way it was written up in the industry press. Bassett was the only star attached when the show was announced back in May, and she also pulls co-executive producer duty on the series. When Kraus was added to the cast in August, Variety assured us he would "star opposite Angela Bassett, who was announced as the series lead." (Britton, by the way, was only announced as part of the series earlier this month, with no details of her role clear until now.)
Granted, the first trailer was specially cut to appeal to viewers of the World Series. Though, while we have never been more aware of quite how ugly the world truly is, perhaps Fox is not giving World Series viewers enough credit in the Angela Bassett-loving department. Are we lead to believe it is more likely that baseball fans are more likely to be huge Six Feet Under fans or something? Did they think that maybe fans would confuse this Peter Krause with the Peter Kraus from The Bachelor?
Fox does have time to correct this before the show ultimately premieres in January. Which they should, because we should be concentrated on other questions about this show besides "Where is the star in the trailer?" Questions like, "Wait, Ryan Murphy is producing a network procedural?"
As for Angela Bassett, herself, well she's actually fine. Aside from this show, she does have key roles coming up in both Marvel's highly anticipated Black Panther and in Tom Cruise's next Mission: Impossible film. Maybe she'll get more screen time in a trailer for one of those.
Related: Ryan Murphy and Sarah Paulson Are Back to Make More Television Out of Your Worst Nightmares
See What's Trending in W Video: