Black Panther Trailer: The Revolution Will Not Be Televised
Marvel's action-packed and politically relevant Black Panther is slated for release in February 2018.
---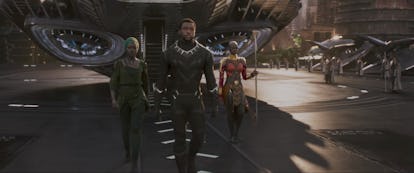 Marvel Studios' highly anticipated Black Panther finally has an official trailer. The preview teases a rivalry between Chadwick Boseman and Michael B. Jordan, as they battle for the throne in the technologically-advanced (fictional) African nation of Wakanda. Creed's Ryan Coogler directs Marvel's first film starring a predominantly black cast, to be released in February 2018.
A Black History Month release date does not come as a surprise, considering Gil Scott-Heron's "The Revolution Will Not Be Televised" underscores the action-packed trailer, featuring appearances from Lupita Nyong'o, Angela Bassett, Andy Serkis and more. Comic Con attendees may also recognize some similarities between this official trailer and the version screened at the San Diego convention earlier this year.
Letitia Wright, Martin Freeman, and Forest Whitaker also join the star-studded cast of the ambitious and self-aware superhero film, along with Get Out's breakout star Daniel Kaluuya and Winston Duke.
While Marvel Studios can be notoriously secretive about the upcoming plots and direction of their new feature films, fans of the Marvel franchise first got a glimpse of Boseman's T'Challa, aka the titular Black Panther, in Captain America: Civil War, and will follow the development of his character over the course of at least four more Marvel films (according to his contract). Known for his portrayal of Jackie Robinson in 42 and James Brown in Get On Up, Boseman's participation in the Black Panther franchise marks a watershed moment for his career. In addition to Marvel's Black Panther, fans will be excited to see Tessa Thompson in the raucous Thor: Ragnaraok and Brie Larson as the titular Captain Marvel, but will have to wait until 2019. Black Panther's prescient and politically relevant trailer will have to tide us all over until then.
Related: New York Comic Con: See Wonder Woman, Spiderman, And All the Other Over-the-Top Superhero Costumes
See W's most popular videos: