Wedding Details: Justin Bieber and Hailey Baldwin Are Married But They Haven't Thrown a Party Yet
So they are married but they haven't held a wedding yet.
---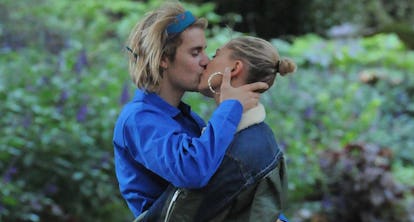 PALACE LEE / Barcroft Media via Getty Images
Justin Bieber and Hailey Baldwin's relationship might be one of the most public celebrity unions out there. Since getting engaged after a whirlwind two months, the young couple has flaunted their relationship status around Brooklyn, Whole Foods, and pizza parlors. One thing they've been notably private about, though, is their wedding details — and keeping up with their nuptial plans has been frankly exhausting.
That feeling is all the more compounded upon learning that Bieber and Baldwin are actually married. Yes, it turns out that trip they recently took to the NYC Marriage Bureau wasn't for nothing. A source confirmed to People that Bieber and Baldwin are legally married. "They didn't want anyone but their families to know they got married. This wasn't a wedding," the source said. "They decided last week to get married. They made an appointment [at the court] and seem happy about it. Some family members knew, but they didn't tell friends."
The reason why Bieber and Baldwin are keeping their marriage a secret for now? They don't consider it to be official until they have their wedding. "They can't wait to have a wedding," the source said. "But for other reasons, it was easier for them to get the legal stuff out of the way now and to get married. It was more of a necessary ceremony to make it legal. It doesn't seem like it was a big deal to them."
For Bieber and Baldwin, it seems like the actual party is a bigger deal than the fact that they're married. Make of that what you will. The party was first speculated to be happening next year but, according to the source, it will be happening sooner. "They are not gonna wear wedding rings until after their wedding. It will be in the next few months," the source said, adding, "They are still deciding on a wedding location… They're going to have a big blowout, in front of God and everyone they love." Few things are bigger than the 101-acre estate the pair recently purchased in Bieber's native Canada for $5 million. It wouldn't be surprising if the pair did decide to hold their party there, as it's already been rumored they would. Either way, it will be one of the biggest weddings of the year.