Justin Bieber and Hailey Baldwin Dropped $5 Million on a Sprawling Farmhouse in Canada and the Photos Are Unreal
They're truly settling down.
---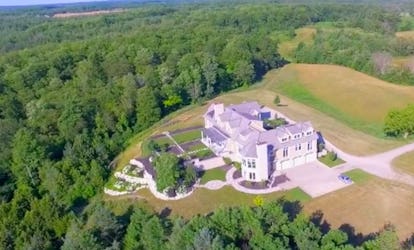 Rego Realty
Justin Bieber and Hailey Baldwin might not be officially married yet, but the young couple is already settling down. Bieber just closed on a new home, presumably for the pair to live in, and it couldn't be more idyllic. Their $5 million estate is situated in Bieber's native Canada, in Ontario on Puslinch Lake.
Their 101-acre estate has a rustic vibe with the main home being a farmhouse that includes five bedrooms with en suite bathrooms, a cinema room, a pool table room, and an equestrian center with a barn, stables and a racing track. Inside the home, there's 9,000 square feet to stretch out in, a wine cellar, and an open kitchen with gourmet appliances fit for a chef. Given that the home is in Canada, which has harsh winters, the home is equipped with geothermal heated floors (and cooled floors for the summertime).
It would also serve as the perfect backdrop for their wedding, considering they have been eyeing a space that allows for "something private, intimate," preferably in Canada. "Justin loves Canada and is at home there. It's a special place for him and he'd love to get married there," a source close to the pair revealed last month.
Despite showing their affection for each other around Brooklyn, in between trips to the grocery store, Bieber and Baldwin have been relatively quiet about their future plans. The pop star didn't hesitate about gushing over Baldwin after they got engaged, though, writing on Instagram, "Was gonna wait a while to say anything but word travels fast, listen plain and simple Hailey I am soooo in love with everything about you! So committed to spending my life getting to know every single part of you loving you patiently and kindLY. My heart is COMPLETELY and FULLY YOURS and I will ALWAYS put you first! You are the love of my life Hailey Baldwin and I wouldn't want to spend it with anybody else. You make me so much better and we compliment each other so well!! Can't wait for the best season of life yet!" Expect even to see even more of that soon from their new Canada home.