Justin Bieber and Hailey Baldwin Reportedly Went to the NYC Marriage Bureau
Those wedding bells just got a lot louder.
---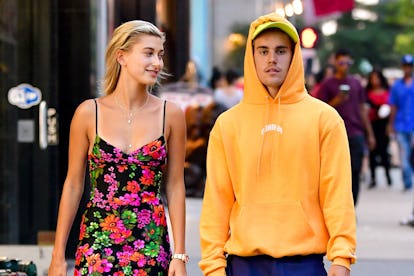 James Devaney/Getty Images
Set your countdown clocks and Google alerts, because there's a very, very good chance that Justin Bieber and Hailey Baldwin might be getting married sometime between now and November 13, somewhere in the state of New York. The latest intel on the matter arrived Thursday afternoon in the form of a blurry paparazzi shot and a few witness statements, and it is, in fact, extremely convincing. Per TMZ, the photo in question was snapped as Bieber and Baldwin walked up the steps of the New York City Clerk's Office, which contains the city's Marriage Bureau, the distributor of marriage licenses.
Eyewitnesses inside the office told TMZ that the lovebirds appeared emotional over the ordeal, with Bieber reportedly even shedding a few tears while picking up the (alleged) license with his fiancée. "I can't wait to marry you, baby," he reportedly told Baldwin at one point.
If true, and Bieber and Baldwin are indeed now in possession of a marriage license, previous reports that the pair were waiting until 2019 to tie the knot would be rendered completely inaccurate. According to the Clerk's Office, once obtained, a marriage license can't be signed for at least 24 hours and stays valid for only 60 days. Additionally, it can only be used for weddings that take place within New York state, meaning the nuptials would likely occur in the vicinity of New York City, sometime between Friday afternoon and midnight on November 13. That narrows things down.
Just this week, Baldwin spilled some details about her upcoming wedding. "I just picture lights strung everywhere," she told The Cut on Thursday. "I think having it in the woods would be so beautiful." At the time, the 21-year-old also hinted that the wedding would be on the West Coast in 2019, making the errand she ran with her husband-to-be later that day all the more confusing. Perhaps the duo were simply mapping out the route they'll eventually take when it's actually time to pick up their marriage license? Alternatively, maybe Bieber and Baldwin didn't even visit the Marriage Bureau at all and just stopped by the City Clerk's Office to learn more about lobbying procedures or to start the process of becoming Commissioners of Deeds.