Justin Bieber and Hailey Baldwin Spotted Making Out in Brooklyn, Again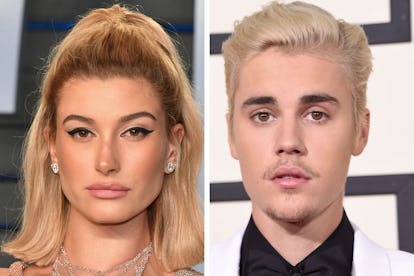 Composite. Getty Images
Weeks before Justin Bieber and Hailey Baldwin confirmed their engagement and began planning their wedding, they signaled to the world that they had rekindled their old romance by embarking on a tour of New York City's most PDA-friendly parks—and appropriately, making out in those various picturesque locales, several of which were located in the trendiest neighborhoods of Brooklyn. Though they've now expanded this make-out tour to the Bahamas; Long Island, New York; Georgia; and beyond since getting engaged, the duo returned to their roots this week by doing some serious canoodling in a Brooklyn restaurant.
As seen in photos obtained by TMZ, Bieber and Baldwin were sitting in a corner booth of Williamsburg's 12 Chairs Cafe around lunchtime on Thursday when they started making out, in full view of their fellow patrons and any passersby who happened to peek into the cafe's massive front windows. Paparazzi be damned!
To refresh your memory of all of Bieber and Baldwin's outer-borough rendezvous: In mid-June, watched by the eyes and iPhone cameras of a crowd of fans, the pair engaged in an extended make-out sesh in Domino Park, against a guardrail lining a path overlooking the East River. A few weeks later, on July 1, they were spotted smooching across the river from Manhattan yet again, this time among the greenery of Dumbo's Brooklyn Bridge Park; mere days later, Bieber confirmed that the model had convinced him to shave off his mustache, while talking to fans during a romantic stroll through—where else?—Brooklyn. Rick and Ilsa have Paris, and Biebwin, apparently, will always have Brooklyn.
Not only are the newly engaged couple unafraid to show some PDA in front of the paparazzi's lenses, but they've also made a habit of posting loved-up shots on their own social media pages. Earlier this month, to confirm that he'd popped the question to Baldwin, Bieber uploaded a photo of his fiancée kissing the side of his head, following it up days later with a racier pic of the lovebirds liplocked in a hot tub. Naturally, this left fans, followers, and John Mayer wondering who, exactly, is charged with following the pair around and photographing their every bout of PDA.
Related: Celebrity Couples Before They Were Couples, From Justin Bieber and Hailey Baldwin to J.Lo and A-Rod
Celebrity Couples Before They Were Couples, From Justin Bieber and Hailey Baldwin to J.Lo and A-Rod
Yes, even before they were engaged, Hailey Baldwin and Justin Bieber have had remarkably similar hair. The pair has, after all, as they've repeatedly stated, been longtime friends, as evidenced here in this photo of them with Hailey's dad, Stephen Baldwin, on the red carpet of the Times Square premiere of Bieber's 3D film Never Say Never in 2011.

New York Daily News Archive/Getty Images
Before showcasing their love for each other via many tattoos and Pete-emblazoned sweatshirts, Ariana Grande and Pete Davidson, who of course are now engaged, first met when Grande appeared at Davidson's workplace, Saturday Night Live, and made a joke about them smoking crack.

Courtesy of NBC/Getty Images
At the time of this meeting Lopez was with Marc Anthony, but it's only fitting given that more than a decade later, J.Lo would move on from her then-husband to the much more fittingly named A-Rod, both seen here at a Yankees game in 2005. Their relationship started off with a bang late last year, when they had to evacuate the restaurant during their first date.

Mike Ehrmann/Getty Images
Before Instagram, their family's platform of choice, was even invented, John Legend and Chrissy Teigen met when it came time for Legend to film the music video for his 2006 song "Stereo," which starred a nearly naked (and at times animated) Teigen.

Courtesy of Vevo
Feast your eyes upon Kim Kardashian with bangs—as well as her sister Kourtney and, of course, Kanye West, at a get-together all the way back in 2008. The pair looks a world away from the Kimye they are today—and even the Kimye they were when they first began, seeing as early on, Kanye transformed Kim's grin into tears by throwing away 250 pairs of her bangs-era shoes.

Michael Bezjian/Getty Images
Back in 1991, there was no Victoria Beckham. Instead, there was a Victoria Adams, aka Posh Spice, who hung out with David Beckham and Elton John on red carpets, before marrying the soccer star later that decade, in 1999.

Dave Benett/Getty Images
Long before they married in 2015, Mila Kunis and Ashton Kutcher were red carpet pals and costars on That '70s Show, beginning when Kutcher was 20 and Kunis was just 14.

Ron Galella/Getty Images
Pete and Ariana's union is a bit less surprising when you consider that back in 2002, the power couple-to-be Jay-Z and Beyoncé Knowles also stood side by side on SNL's stage. (Technically, they began dating a bit earlier, when Beyoncé was 19, but they had a phone-only relationship for the first year and a half.)

NBC/Getty Images
Ellen DeGeneres and Portia de Rossi are perhaps one of the only couples who can say their relationship began backstage at the VH1 Awards, which is exactly where they first met in 2004. Making it official, though, took a bit of waiting: They didn't marry until 2010, after the California Supreme Court ruled that the ban on same-sex marriage was unconstitutional (and after de Rossi had split up with the director Francesca Gregorini, whom she'd been dating when she and DeGeneres first met.)

Jeff Kravitz/Getty Images
The Olsen twins may be the first to catch your eye, but this photo primarily documents the early, 2005-era spark between Penélope Cruz and Javier Bardem, who'd go on to marry in 2010.

J. Vespa
In 2007, Salma Hayek announced that she was both pregnant and engaged to the French billionaire and Kering CEO François-Henri Pinault. They wed on Valentine's Day in 2009—and again that April, this time in Venice—and Hayek hasn't stopped making Fashion Week front row appearances since.

Bertrand Rindoff Petroff/Getty Images
Ryan Reynolds was still married to Scarlett Johansson when he and his Green Lantern costar Blake Lively appeared at Comic-Con in 2010. Two years later, a then-divorced Reynolds in turn made things official with Lively, who, in addition to giving birth to two children, has made a point to troll him ever since.

Kevin Winter
Back when she was still making a name for herself as Buffy the Vampire Slayer, in 1997, Sarah Michelle Gellar starred in first-ever major movie: I Know What You Did Last Summer—and just so happened to meet Freddie Prinze Jr., her then-costar who, in 2002, would go on to become her husband.

Mirek Towski/Getty Images
Nick Jonas and Priyanka Chopra, one of this year's most surprising couples, came to be after they met at the 2017 Met Gala, which saw Ralph Lauren, whose designs they each wore, pair them up. Fast forward to just over a year later, and suddenly they've become attached at the hip. They've wasted no time with their relationship, which they struck up less than two months ago; both Jonas and Chopra has already met the other's family.

Mike Coppola/Getty Images