Hailey Baldwin Has Already Selected Who Will Be Bridesmaids in Her Wedding
According to Ireland's mom.
---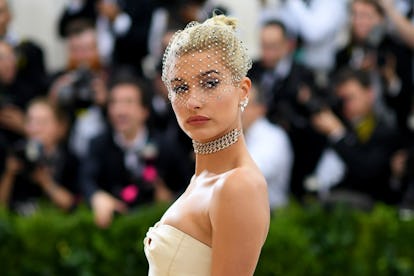 Dimitrios Kambouris/Getty Images
Hailey Baldwin and Justin Bieber have already dived headfirst into planning their wedding, beginning, apparently, by hand-picking the friends and family they want standing by their sides on the big day. Though, we don't know yet whether we'll see Baldwin's pal Kendall Jenner donning a bridesmaid dress at the wedding, we now know at least two of the women Baldwin has chosen for her half of the wedding party.
In an interview with Us Weekly on Tuesday, Kim Basinger, mom of Baldwin's cousin Ireland Baldwin, spoke about the couple's wedding plans. "Oh, it'll be fun. Alaia and Ireland, they're in the wedding," Kim said, referring to Hailey's older sister, Alaia Baldwin Aronow. "It's cool! I think it's sweet. It's a very sweet thing. Happiness. We're living in some really dire times right now," she added. "I'm very, very happy for Hailey. I think it's a good thing. I think Justin's a cool guy. I don't really know him at all, but Ireland does, you know? I think he's come through a rough road. He's a really cool kid. I pray for them. I hope they're cool. I hope they're happy!"
The cousins have stood side by side at the altar before, when Alaia got married last September. At the time, Baldwin served as her sister's maid of honor—and, perhaps, will ask Alaia to return the favor—while Ireland joined five more of Alaia's closest friends as bridesmaids. In an uncanny twist of fate, during the wedding reception, Baldwin shared a selfie with her dad Stephen Baldwin on her Instagram Story with the caption, "Dad said me next….." Though she added an adamant "NOT," her dad has, in fact, turned out to be correct.
Both Alaia and Ireland took to Instagram shortly after news broke of Baldwin and Justin's engagement to share their excitement. Ireland shared a throwback photo of the trio playing in a bathtub, writing, "There's gunna be one less lonely girl ? … and only one lonely girl left ?my other chicken is soon to be a beautiful bride ♥️. congratulations to the two of you @haileybaldwin @justinbieber." The following day, Alaia posted a photo of her and her sister at her own wedding. "From one bride to the next…..congratulations to my baby sister on this exciting next chapter! I love you and wish you both the best. Can't wait to celebrate with you! @haileybaldwin @justinbieber ????" she wrote.
Related: Justin Bieber and Hailey Baldwin's Wedding Details Include A 'Small Ceremony With Their Families'