Justin Bieber Valiantly Directed Traffic After His Mercedes Broke Down
The Biebs was literally directing traffic.
---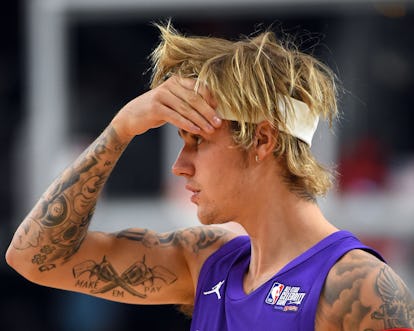 Jayne Kamin-Oncea/Getty Images
Justin Bieber, who you might remember was once arrested for a bit of late night drag racing through an otherwise sleepy residential family neighborhood on Miami Beach, is apparently taking road safety a lot more seriously these days. He's even playing crossing guard when the larger public good calls for it. On Monday, according to People, Bieber and current flame Hailey Baldwin were driving a Mercedes-Benz SLS AMG through the Hamptons when the sports car broke down in the middle of an intersection and, eventually, had to be towed away.
Before the tow truck and authorities could arrive to remedy the situation, though, The Cut reports, Bieber took matters into his own hands. As seen in a video captured by someone at the scene and posted on Instagram by a Bieber fan account, the pop star hopped out of the car and stood on the side of the road to direct other drivers safely around the broken-down Mercedes, which was blocking an entire lane. For her part, Baldwin stood on the opposite side of the road, watching as an energetic Bieber waved cars through from multiple directions. The cops and mechanic reportedly arrived quickly, however, relieving Bieber form his brief experience with community-led policing.
Hopefully, the stalled car doesn't foreshadow any bumps in the road for Bieber and Baldwin's summertime romance, which has been heating up all over the east coast over the course of the last few weeks. The pair was first spotted in Miami Beach. This time Bieber avoided any impromptu drag racing, and instead was there to attend church. Then the couple popped up making out in Brooklyn in mid-June, before taking a somewhat more demure walk hand-in-hand through Manhattan just a few days later. Most recently, the duo made their way back across the East River to Brooklyn for yet another PDA-filled outing, with Bieber being photographed at one point holding the burgeoning model's head in his hands and kissing her on the forehead.
This all comes, of course, mere weeks after Baldwin adamantly stated that she and Bieber, who she previously dated in 2015 and 2016, were just friends. "I met him when I was really young and he was one of my best friends. Everybody knows that at a certain point in time that turned into something else, but that just happens when you're 18, 19. It was what it was," she told the U.K.'s The Times, adding that she and Bieber then "went through a long period of time when we weren't friends." She continued, "We didn't speak for quite some time and there was a lot of weirdness that went on." They've since moved past the "weirdness" of a high-profile relationship, Baldwin claimed. "But it brought both of us to the realization that we just work much better as friends," she said. "He's somebody I really cherish. Now it's a very mature situation. It's good."
Related: All the Famous Women Justin Bieber Has Been Spotted With Over the Years