Justin Bieber and Hailey Baldwin Are Having Some Wholesome Fun in New York City
The couple backpedaled from public makeouts to holding hands.
---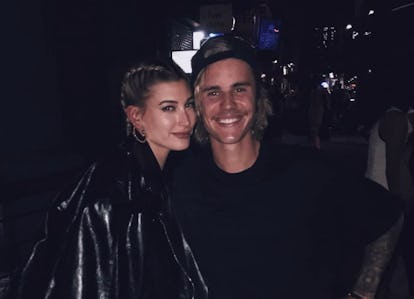 Photo by @otpjailey.
Justin Bieber and Hailey Baldwin finally took a break from repeatedly making out in public to have some wholesome fun in New York City, as the two were spotted holding hands during an evening stroll on Thursday night.
In between Bieber's off-again, on-again roller-coaster relationship with Selena Gomez, he dated Baldwin. The couple officially broke things off in 2016, ending any romantic or friendly ties to each other. But now, eagle-eyed fans have spotted the two praying at church together (with Baldwin often seen wearing her congregation's merch) and parading through New York. Try as they might to keep their relationship status vague (sources told People earlier this year that Bieber is "single and not dating anyone seriously" after his breakup from Gomez), it looks like their recent PDA on display throughout the city classifies as romantic.
After reportedly pranking paparazzi by placing a wedding ring on his left finger Thursday night, Bieber—in his summer health goth look consisting of a black T-shirt, black shorts, black slide sandals, and a backward black baseball cap—was spotted in the city holding hands with Baldwin, who opted for a black leather jacket and blue jeans, right after leaving dinner at Cipriani. After insisting that they were "just friends" in May, publicly making out around the city, and strolling down Houston Street, it would appear that Bieber and Baldwin are officially back on. Besides, the couple that coordinates their outfits together stays together, right?
Fans in the West Village stopped the two on the street to pose for some photos, and they obliged, just as they did earlier this week when fans spotted them together in Brooklyn.
Now that Bieber and Baldwin have reunited, there's only one more step they need to take to confirm that they are, indeed, back on as a couple (well, two, if you count actually admitting that they're dating): Bring this relationship back to Los Angeles so we know it's real.
Related: Justin Bieber and Hailey Baldwin Can't Stop Making Out in Public