Hailey Baldwin and Justin Bieber Are Totally Fine Now, Just Friends
Model Hailey Baldwin has some very chill thoughts on her relationship with Justin Bieber.
---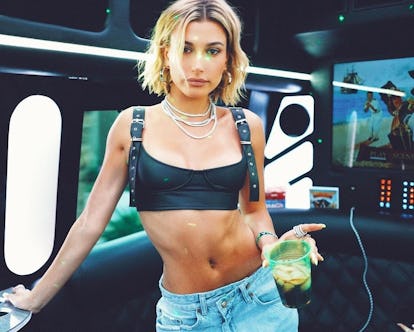 @haileybaldwin
Remember, for a brief moment in 2016, when Justin Bieber dated Hailey Baldwin in between relationships with Selena Gomez? Well, rest assured, they're totally fine now, all good, just pals and it's not weird at all. In a new interview with the U.K.'s The Times, Baldwin opened up about dating in the public eye (not great, as it happens) and discussed her short relationship with the pop star.
"I met him when I was really young and he was one of my best friends. Everybody knows that at a certain point in time, that turned into something else, but that just happens when you're 18, 19," she said. (And maybe when you're 21, too? Is that what's going on with Shawn Mendes before our very eyes?) After they broke up, though, they "went through a long period of time when we weren't friends," she added. "We didn't speak for quite some time and there was a lot of weirdness that went on."
But now, according to Baldwin, not only are they on speaking terms again, they have "moved past" the weirdness. "We just work much better as friends," she said, describing their relationship as "a very mature situation." Nothing sounds as convincing as someone who goes out of their way to assure you that everything is fine, just fine.
By contrast, Selena Gomez and Bieber, who split up once again, are very much not on speaking terms, according to an anonymous source consulted by E!. They "aren't in contact," the source said. Gomez was apparently not too pleased that after she started dating Bieber again, he spoke with Baldwin on the phone. But now that she's split up with Bieber, Gomez's relationship with her mother, who was a vocal nonsupporter of their relationship, is "mended," according to the same source—so everything is in its right place, really.
Related: A Photographic Guide to All the Women Justin Bieber Has Dated Over the Years
Hailey Baldwin Is Making the Case For the Formal Scrunchie
Hailey Baldwin attends the 2018 Whitney Museum Studio Party sponsored by Michael Kors and AudiCity.

Dimitrios Kambouris
Madeline Poole and Paloma Elsesser attend the 2018 Whitney Museum Studio Party sponsored by Michael Kors and AudiCity.

Dimitrios Kambouris
Jemima Kirke and Alex Cameron attend the 2018 Whitney Studio Party.

Carl Timpone/BFA.com
Aurora James and Brandon Maxwell attend a cocktail party to toast Brother Vellies' CFDA Nomination on the Roof at the PUBLIC Hotel.

David X Prutting/BFA.com
Nicky Hilton and Harley Viera-Newton attend Harley Viera-Newtons Celebrates 'The Summer Shop' with Levi's and LIANA.

Mike Vitelli/BFA.com
Carly Mark and Chloe Wise attend the Ruinart Champagne x New Museum's NEW INC Artists in the Lab dinner at Bouley Botanical.

Kelly Taub/BFA.com
Ronald van der Kemp and Karla Welch attend The Albright Fashion Library and Karla Welch welcome Ronald van der Kemp to Los Angeles.

Owen Kolasinski/BFA.com
Gina Rodriguez and Sophia Bush attend the CIROC Empowered Brunch on May 21, 2018 in Los Angeles, California.

Jerritt Clark
Jen Atkin and Stephanie Shepherd attend Matthew Mazzucca and Ben Gorham Host a Private Dinner in Celebration of Byredo's Capsule Collection Elevator Music Designed in Collaboration with Off-White c/o Virgil Abloh at Barneys New York Beverly Hills.

Stefanie Keenan
Shay Mitchell attends Matthew Mazzucca and Ben Gorham Host a Private Dinner in Celebration of Byredo's Capsule Collection Elevator Music Designed in Collaboration with Off-White c/o Virgil Abloh at Barneys New York Beverly Hills.

Stefanie Keenan
Katie Holmes attends the American Ballet Theatre's 2018 Spring Gala.

Samantha Nandez/BFA.com
Alec Baldwin attends the American Ballet Theatre's 2018 Spring Gala.

Samantha Nandez/BFA.com
Donald Glover and Emilia Clarke attend The Cinema Society With Nissan & FIJI Water Host A Screening Of "Solo: A Star Wars Story."

Paul Bruinooge
Alden Ehrenreich attends The Cinema Society With Nissan & FIJI Water Host A Screening Of "Solo: A Star Wars Story."

Paul Bruinooge
Tiffany Haddish attends The Cinema Society With Nissan & FIJI Water Host A Screening Of "Solo: A Star Wars Story".

Paul Bruinooge
Zazie Beetz attends The Cinema Society With Nissan & FIJI Water Host A Screening Of "Solo: A Star Wars Story."

Paul Bruinooge
Solange Knowles attends the 70th Annual Parsons Benefit on May 21, 2018 in New York City.

Brian Ach
Martha Hunt and Jasmine Tookes attend the Rosa Cha U.S. launch event at the Freehold Hotel.

Benjamin Lozovsky/BFA.com
Katie Holmes and Ava DuVernay attend OWN With The Cinema Society Host A Party For Ava DuVernay And "Queen Sugar."

Paul Bruinooge
Kate Mara and Nina Agdal attend as Belvedere Vodka celebrates newest expression Ginger Zest with Candice Kumai at NoMo SoHo on May 15, 2018 in New York City.

Astrid Stawiarz
Anna Cleveland and Pat Cleveland attend OWN With The Cinema Society Host A Party For Ava DuVernay And "Queen Sugar."

Paul Bruinooge
Caroline Trentini and Alexandre Birman attend a dinner to celebrate the opening of Alexandre Birman's first North American store.

Madison McGaw/BFA.com
Mykki Blanco and Kimberly Drew attend HBO's Speakeasy 451.

Daryl Oh
Lourdes Lola and Erin Magee attend a launch event to celebrate Converse's new women's apparel and footwear collaboration with NYC-based brand, MadeMe.

Ryan Kobane/BFA.com
Katie Warner Johnson and Susan Lucci attend the Carbon 38 And Hamptons Magazine Private Dinner on May 23, 2018 in Bridgehampton, New York.

Eugene Gologursky